Perspective
Road Rules 101: Solo road trips
June 24, 2019
by PEMCO Insurance
​
With kids heading off to college, how can they can stay safe when driving alone cross-country? (Customer question from Gladys K.)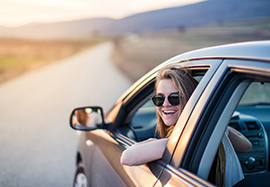 Whether you're going it alone to reach your new job, college or maybe just investing in some "me" time, taking a solo road trip can be one of the most freeing – or frustraing – experiences a traveler can have. Preparation makes all the difference when it comes to worrying less and living more on the road:

1.     Get your car serviced
That includes checking the battery, wipers and tire pressures; topping off fluids and replacing worn hoses or brake pads before you go.

2.     Pack paper maps as backup
GPS can glitch, and temporary road closures or detours may not appear. A paper map can show alternate routes or bridge gaps if your smartphone app hits a no-service zone.

3.     Sign up for roadside assistance
Whether you buy it through an automobile club, get it as a credit-card perk or it's included with your vehicle warranty, you'll feel better knowing someone will rescue you if you break down, run out of gas or get a flat. You can also add Towing and Emergency Road Service to your PEMCO coverage.

4.     Fight fatigue
Falling asleep behind the wheel is arguably the greatest danger solo drivers face. Talk or sports radio keeps you awake better than music. Turn off cruise control at night, since concentrating on maintaining your speed is one way to stay alert. Reserve hotels along your route that "force" you to stop for a full night's sleep, even if you're tempted to push on, and never drive more than two hours without a break. If you need a catnap, find a safe place (not the shoulder) to pull over, lock the doors and make sure accessories like the radio are turned off so they don't drain the battery. Besides rest areas, some seasoned solo drivers suggest superstore or casino parking lots as good (well-lighted and camera-monitored) places for a quick snooze.

5.     Know the laws of the states you're driving through
Laws on cell phone use, U-turns, freeway speed limits, school buses and pedestrians commonly vary state-to-state.

6.     Stay alert to your surroundings
Never let your gas tank dip below one-quarter full, stow tempting valuables (even luggage) in the trunk and when you stop for the night, park in a well-lighted spot. At your hotel, don't accept a ground-floor room if you have a choice (third to sixth floor are safest); refuse a room if the desk attendant announces the number as you're handed your key (you don't know who might have just overheard); check that all window and door locks work (including the one to an adjoining room) and if someone comes to your door unexpectedly and claims to be hotel staff, don't open your door without first calling the front desk to verify that they've sent someone.

Of course, you could also find a fellow traveler to share the adventure …

And depending on where you live, that could be easy or challenging. A recent PEMCO Poll and Seattle Times article answer the question: Is the "Seattle Freeze" real?