Perspective
Prep your bike for a return to cycling
April 25, 2021
by PEMCO Insurance
​Even if you live on the soggy side of the Cascades, you can count on May to usher in usually reliable biking weather. Before that first ride of the season, make sure that months spent stuffed inside the garage haven't taken a toll on your bike: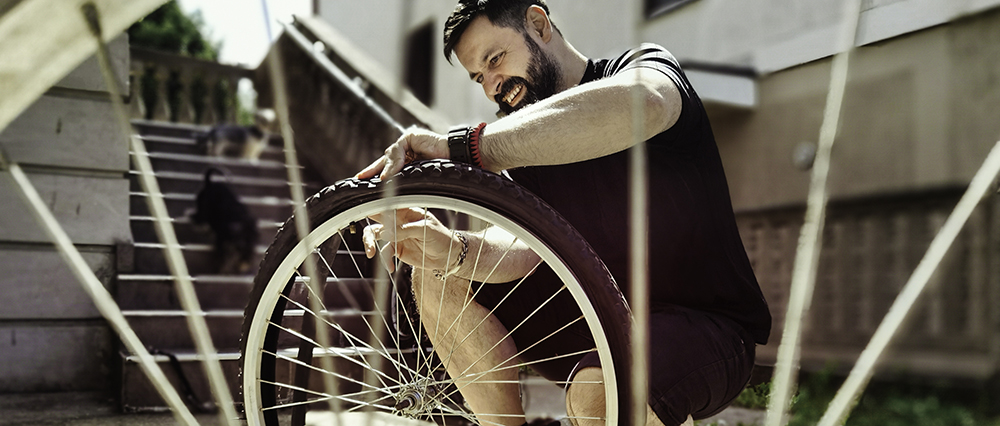 Pump up your tires. 

They may have gone flat over the winter. Look on the side of the tires to find the minimum and maximum air pressure needed.
Give the wheels a spin.
If they wobble, visit your bike shop for repairs.
Lubricate your chain and derailleurs. 
To ensure smooth shifting, use products formulated especially for bikes. As you oil the derailleurs, be sure to shift gears a few times to evenly distribute the oil.
Check your lights.
Batteries may have corroded during storage. Consider adding flashing front and rear lights that improve drivers' ability to see you, even when you're riding in daylight.
Take a short test ride.
Do the gears shift smoothly and quietly? Do the brakes stop without being too grabby? If not, it's time for a tune-up at your local bike shop.
Check the route you plan to ride. 
New construction projects may have made a favorite route less hospitable, especially if you're forced to merge with traffic in some stretches.
Check safety gear. 
Besides making sure your helmet still fits properly, check your carry-along repair kit to confirm it includes a small tire pump, spare tube, patch kit and a bike multi-tool.
Bike Index is a free database that lets you capture photos and identifying details like the brand, model, size, color and serial number of your bike. If it's stolen, having those details makes it easier to report the loss to us (bikes are covered under your homeowners or renters policy) and the police. But the biggest benefit may be tapping into the Bike Index community. After a theft, you can mark the bike "stolen" on the site, notifying Bike Index members and partners (including bike shops and law enforcement) to be on the lookout. The site also helps you create alerts you can post on your own social networks. And if you're buying a bike secondhand? Check that it's not listed as stolen on Bike Index to ensure you're getting a legitimately good deal.
Want more get-ready-for-bike-season tips? Check out these bike rules for both cyclists and drivers, and our PEMCO Northwest Poll to see how well (or not) bicyclists and drivers co-exist in the Northwest.

Bonus tip for motorcyclists
All that sitting around during winter can be rough on motorcycles, too. Before your first springtime ride, check the:

Frame. Look for signs of corrosion.
Fluids. Refill or replace oil, coolant, clutch and brake fluid. If you didn't use fuel stabilizer when you put your motorcycle into storage, you may need to drain and replace the gas, too.
Hoses. Inspect for signs of cracks or detachment.
Brakes. Check lines and brake condition.
Tires. Inspect for signs of dry rot and proper inflation.
Lights. Make sure they're working. Washington and Oregon require you to run with your lights on any time of day or night.
Insurance. Like drivers, motorcyclists in Washington and Oregon are required to carry insurance. If you'd like to get a no-obligation quotation, let us know. Your local PEMCO agent or the specialty insurance experts at PEMCO Insurance Agency can help you find coverage for your motorcycle, as well as ATVs, collector vehicles, manufactured homes and more. Contact your agent, email agency@pemco.com or call 1-800-GO-PEMCO, ext. 9311.