Perspective
First time homebuyers checklist
January 20, 2023
by PEMCO Insurance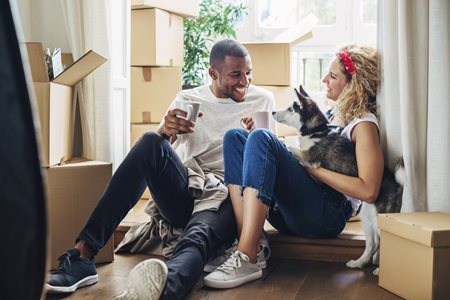 Waiting for mortgage rates to drop before you take the first-time homebuyer plunge? You're not alone. For many first-timers, 2021's and early 2022's FOMO homebuying frenzy has turned to a homebuying fizzle as higher mortgage rates have temporarily pushed them onto the sidelines.
Fortunately, a forced pause in your quest for homeownership can be good thing if you use it to strengthen your finances and cash in on assistance options for first-time buyers.
Here's what to know – and five boxes to check – as you bide your time.
Why is homebuying so hard right now?
The share of first-time homebuyers has dropped to the lowest level ever recorded, according to the National Association of Realtors (NAR). As mortgage rates have risen from a low of 2.65% in January 2021 to their current 6%-ish range, it reports, Millennials have lost their position as the biggest cohort of homebuyers. Instead, 55- to 74-year-olds who can cash in on equity gains from their current home now make up the largest chunk of buyers. And those first-timers who still managed? They tend to be "older" Millennials, with a median age of 36.
The shift shows how much interest rates matter on a purchase as big as a home. For each 1% that rates creep up, buyers lose about 10% in purchasing power. In Washington's King County, where Seattle is located, the monthly payment for a median-priced home is around $4,300 – a fat $1,200 more than a year ago at pandemic-era rates, according to the Seattle Times. Or put another way, to afford the median home at current rates with a 20% down payment, homebuyers in the Seattle metro area need a household income of $169,000 a year. The Times notes that the metro area's median household income (half make less, half make more) stands at a record $101,700
Even with competition in overheated markets cooling, making the leap from renter to owner is a heavy lift. So what's the best strategy for a would-be first-time buyer?
Experts say focus on the two "Ps" – patience and planning – so you're ready to move when the time is right.
When will the housing market to improve?
While home mortgage rates and prices have, at least for now, halted their steady climb and maybe even dipped a bit, scarcity of available homes continues to hamper many markets. Experts are mixed on how they think 2023 will play out.
People who locked in mortgage rates in the 2, 3, and 4% range aren't eager to move – even if they're not completely thrilled with their purchases. Unless they've accumulated enough equity for a big down payment on an upgraded next home, they'd be looking at higher monthly payments for a lateral move. Because of that, some real-estate experts say that limited supply could refuel an upswing in prices in the spring when demand traditionally strengthens, especially if rates have eased. Others say the worry is overblown and to look for a more "normal" market closer to the end of 2023, especially if recession fears materialize and lead to further moderation in home prices.
Regardless of timing, focusing on your own qualifications – job security, creditworthiness, and down-payment savings – remains a wise bet. That gives you options that less-prepared buyers won't have.
What should I do to get ready to buy a home?
Start much sooner than you'd think. Even if don't want to buy until 2025, schedule a visit now with a mortgage lender to get "prequalified" rather than "preapproved." Prequalification is informational visit where you share your financial picture with the lender (income, assets, expenses, current debt, employer stability) to find out where you stand as a potential borrower. You'll get advice on how to improve your credit score, if needed, and clean up any errors on your report that may be dragging down your score. You'll also get a realistic assessment of what you'll be able to afford on your savings timeline and the types of loans that may be available to you.
In a preapproval, the lender vets your information pending a loan application. A preapproval isn't good indefinitely, so wait to do it until you're within about 90 days of being ready to buy. Otherwise, you'll just need to go through the process again.
Visit open houses as fact-finding missions. Scrolling Redfin and Zillow are much different than physically walking through a property. Wide angle lens shots, for example, don't show the real difference between a 640-square-foot condo and an 840-square-foot option. Narrow the neighborhoods, developments and features that interest you. Do you want to be able to walk to the store? How long is the commute during peak hours? Could you honestly unplug from work in a smaller property if you're forced to set up your work-from-home space in your living room or bedroom?
Answering those questions now, rather than during your actual house hunt, enables you to objectively prioritize preferences and avoid wasting your time on properties unlikely to hit the mark. If you don't like what the price range determined your prequalification visit can buy you, explore ways to adjust it.
Save as aggressively as you can. The bigger your down payment, the less money you must borrow – meaning lower monthly payments. However, your down payment is just one of the upfront costs you'll face when buying a home. You also need to factor in closing costs (which range from 2 to 6% of the loan amount), remodeling needed before you move in or, if you're considering an older condo, special assessments for complex-wide maintenance (replacement siding, roofing, windows). A motivated seller may agree to pick up some of the costs, but you can't count on it. Look for a rent-free or reduced-rent arrangement (continuing to live at home as a recent grad?) so you can save as much as possible before you start your serious house hunt.

Grab all the first-time homebuyer help you can get. Look for a homebuyer education course (a local real estate agent can likely recommend one) to learn what state and federal resources may be available to you based on things like military service, household income and location. That can include subsidized loans or down-payment assistance (DBA) programs either as grants that you never have to pay back or deferred, low-interest loans to help you get your foot in the door with less of an out-of-pocket down payment.
Now's not the time to make any sudden moves with your life or finances. Don't buy a new car. Don't charge a new living room set. Don't get a new credit card. Don't change jobs if you can help it. Changes like those can impact your credit score and ability to qualify, especially if your credit score puts you on the borderline for assistance eligibility.
Protect yourself during your search. Once you transition from "just looking" to actually shopping, don't forego property inspections in an attempt to strengthen your offer, particularly now that the market has cooled somewhat. Besides the usual pre-purchase inspection, consider adding a pest or soil stability inspection if you have concerns. Also, ask your seller to order a free CLUE report and, like any purchase stipulations, have it written into your contract. A CLUE report shows whether the property has any reported insurance claims (like fire, water or wind damage) over the past seven years, and it will enable you to verify that repair work was completed. If you're a seller, having a pre-inspected property along with a current copy of your CLUE report can be enticing and reassuring to buyers.
And once you think you've found THE ONE? Let us know! We can discuss any unusual risk factors (like high wildfire potential, seasonal flooding, a steep slope, an aged roof) that would significantly affect its eligibility for insurance or the rates you'd pay. If it gets the all-clear and you decide to buy, we can preapprove your insurance protection when you sign the contract – no need for a last-minute scramble before closing. Talk with your local PEMCO agent or call 1-800-GO-PEMCO.
MORE STORIES LIKE THIS FROM PEMCO:
Double check to see if you're ready to own a home | PEMCO
How to find your next home in a seller's market | PEMCO