Perspective
Get the right fit for your child's bike helmet
June 24, 2019
by PEMCO Insurance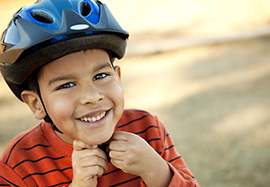 "Fit" matters more than "fancy" when it comes to finding the right bike helmet to protect your child this summer. Follow these simple steps and see if your child's helmet can pass the Eyebrows, Ears and Mouth Test:

Eyebrows
Level, one or two finger-widths above the eyebrows
Ears
Makes a "Y" around your ears

Mouth
Pulls down when you open your mouth, lets you breathe easily.
Avoid passing down helmets from one child to another (an older helmet may no longer meet current safety standards) and never buy a secondhand helmet or use one that's been in a crash. It may have invisible damage that would compromise its ability to protect you.

Finally, remember that a bike helmet only works if it's worn, so let your kids choose one that shows off their sense of style!