Perspective
What to do after an auto accident
December 5, 2022
by PEMCO Insurance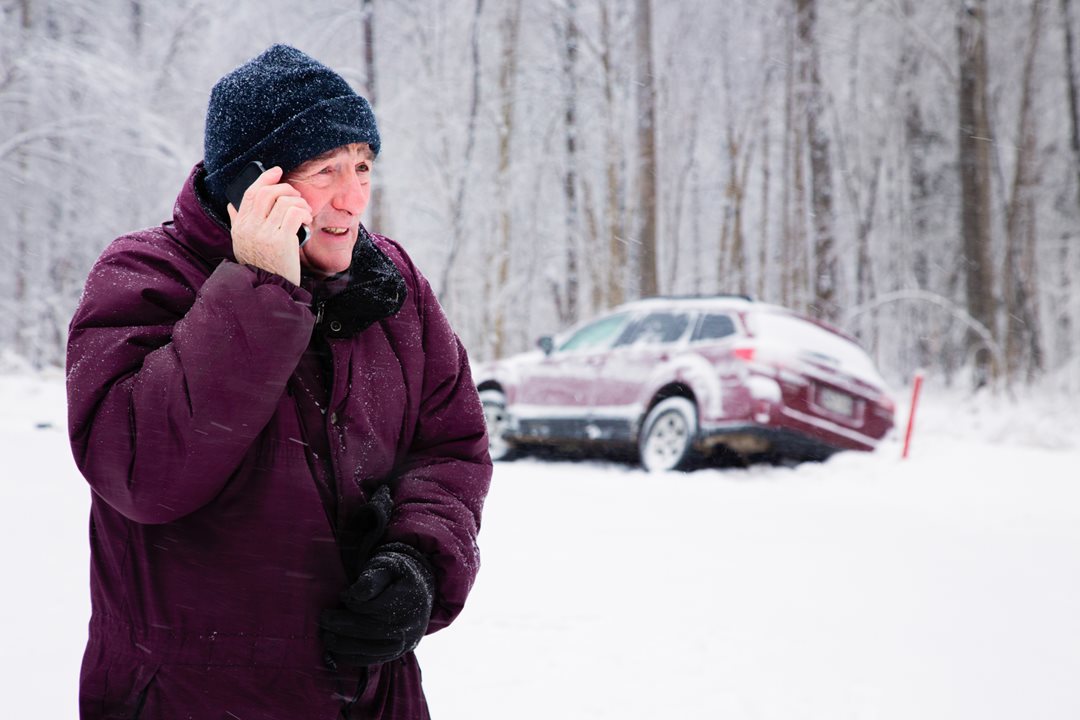 With holiday travel likely to reach pre-pandemic levels, safety experts expect holiday accidents will increase, too. The days leading up to and immediately following the holidays traditionally see an uptick in all types of auto accidents, fueled by more cars on the road, icy conditions, distracted or sleep-deprived drivers and over-indulgence at holiday parties. (More on the risks below and how to put the odds in your favor).
If, sadly, you slide into the ditch or crash with another driver this holiday season, know that your PEMCO protection is right there with you. You can report an accident to us 24 hours a day, 365 days a year.
Before you call us though, safety first! Here's how to get emergency help after an accident for you and your family. Also, know what to do after the crash to make sure your insurance claim goes smoothly.
Do I need to call 9-1-1 after an accident?
Surprisingly, the answer is "often, but not always."
Call 911 immediately if anyone is hurt, you're not able to move your vehicle, there's debris in the road, or the other driver seems intoxicated, disoriented or threatening. The dispatcher will instruct you on what to do next. (Dispatchers don't automatically send an officer to the scene just because a driver calls 911. Their response will depend on circumstances.)

If it's a minor fender-bender with minimal damage, no injuries and nothing blocking the road, you likely don't need to call 911. You can file an accident report online once you're safely back home (more on that below).

If your car still runs, get it off the road as soon as possible to reduce the chance another car will run into you. If you need to abandon your car in the snow, here's the right way to do it.

Turn on your flashers and shut off your car. If it's safe to exit the car, you can set up reflectors or flares to help other cars see and avoid you on the road's shoulder. After sunset, carry a flashlight to help oncoming drivers see you if you're outside your car.

If your car is disabled in the lane, you're likely safer staying inside with your seatbelt on rather than trying to get out and dodge traffic on a busy road.
What if I don't have cell service to call 911?
If you need emergency help, dial 911, anyway. Even if your carrier doesn't serve the area, any carrier that does is obligated to put your 911 call through. Calling is always the first choice for reaching 911.
If calling doesn't work, try texting 911, instead. Texts can sometimes go through even when calls can't, and many county emergency systems can field texts. Give your location and brief details of your emergency – something like "need ambulance, car accident, 75 y/o man, back injury." You should also include your name, but don't add photos, videos or emojis because they may prevent your text from going though. If your text fails, you'll get a notification.
If you're in a true cellular desert, you'll need to weigh whether it's safe to try to walk to find a landline phone. You can also ask a passerby to call for you when they reach a phone; however, don't get in a car with a stranger, since that could place you at additional risk.
What do I say to the other driver after an accident?
You're a nice person – and your first impulse may be to start gushing apologies. Or, maybe you've got a feisty side, and you feel like giving the other driver a piece of your mind.
Don't do either.
The best thing to do is calmly exchange and gather information. Limit your statements to observable facts. Don't speculate on fault, talk about policy coverage limits or share personal information unrelated to the accident. Let the authorities and insurance companies sort who is responsible for what.
Remember to stand in a safe place – as far off the road as possible – to minimize the chance you'll be hit by another car.
What information should I gather after an accident?
Don't rely on your memory. Stress can make your mind go blank on even the simplest details.
Instead, use your smartphone camera as much as possible. For all cars and drivers involved, get clear, close-up detail of:
Drivers' licenses

Vehicle registrations

Proof of insurance cards

License plates

Photos of the scene showing:
vehicle damage

position of vehicles (if they haven't been moved to the side of the road)

weather conditions

skid marks

debris in the road
unusual circumstances like construction detours or road hazards.

Get phone numbers for all drivers and witnesses.

Note the time, street names (or nearest cross street), direction of travel and approximate speed of the vehicles involved.

If an officer responds, get their name, department (city, county or state) and their report number if one is issued.
What information do I need for my insurance?
From a safe place, away from the scene:
Contact PEMCO online or call 1-800-GO-PEMCO anytime, day or night, to report the collision. All that information you captured on your phone will give us a head start in processing your claim and getting your life back to normal.

Go online to complete a Vehicle Collision Report in Washington or Traffic Accident and Insurance Report in Oregon, or visit your local police station to get a form. Unless the officer made a report at the scene, you must complete one if anyone was injured or damages appear to exceed $1,000 in Washington or $2,500 in Oregon. You have four days in Washington and three days in Oregon to file your report.

Visit pemco.com/claims for links to other information you need to know.
How can I reduce my risk of a holiday accident?
While most people assume the winter holidays are the most dangerous for drivers because of inclement weather, that's not true according to the financial website ValuePenguin. The summer holidays – Memorial Day Weekend, Labor Day Weekend, and Fourth of July Weekend – show higher rates for fatalities and DUI accidents. That's because they have more of a party vibe, where people attend an event for the day, consume alcohol and attempt to drive home.
Thanksgiving and Christmas Day tend to be safer than ordinary days; however, the days just before and after have more serious crashes because so many people are on the road to their holiday destinations. The early morning hours of New Year's Day may be the most treacherous time of year, as revelers return home from New Year's Eve parties.
Here's how to stay safer as you travel this holiday season:
Consider purchasing Towing and Emergency Road Service coverage. It's available as a low-cost add-on to your PEMCO auto policy if you have Comprehensive and Collision coverage.
It provides coverage up to your policy limit at the site of a breakdown if your car is disabled. For example, if you need gas delivered, we'll pay for the delivery costs (you'll pay for the gas). We'll also pay for labor costs up to your coverage limits for things like jump-starting your car, changing a tire or locksmithing the door to get you back on the road again. The contract language varies slightly between Washington and Oregon, but the benefits are really the same. Call 800-GO-PEMCO or ask your local PEMCO agent for details.
MORE STORIES LIKE THIS FROM PEMCO:
Eight things NOT to do after an auto accident | PEMCO
I got in an accident while driving my friend's car | PEMCO
Tips for dealing with a hit and run | PEMCO