Perspective
Real claims: I was rear-ended at a stop sign
February 3, 2023
by PEMCO Insurance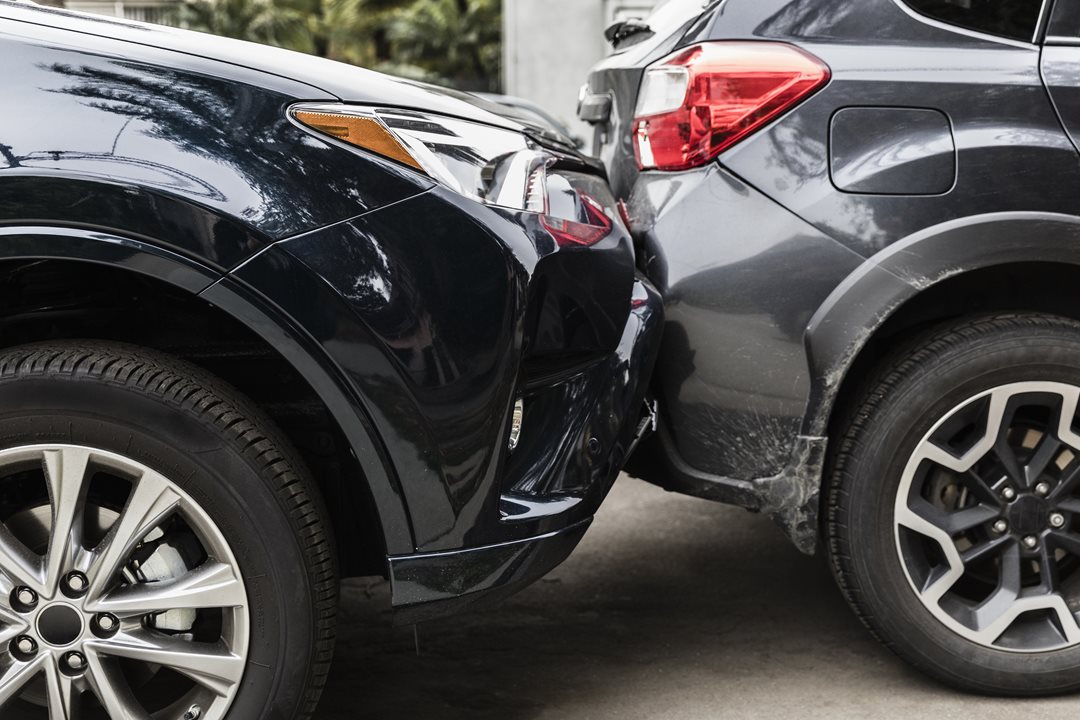 Rear-end collisions are the most common type of accident, accounting for almost one-third of crashes, according to the National Highway Traffic Safety Administration. Do you know what you should do if you experience one?
While fault for rear-end accidents usually rests with the car in back (in industry jargon, it's called "prima facie evidence," meaning "at first glance" or until proven otherwise), it doesn't make the time following the accident any easier for the person who was hit. Rear-end collisions – even slow-speed ones – can cause a surprising amount of damage to the vehicle that's struck and possible whiplash injuries to the occupants. These injuries can include concussion and neck/shoulder pain from the sharp jolt of the unexpected bump.
In this Real Claims story, you'll learn how your insurance covers rear-end collisions, and the options you have for getting your vehicle and life back to normal.
Rear-ended at a stop sign
Last spring, William, a certified aircraft mechanic, electrician and structural inspector, was on his way to Spokane Valley to watch his granddaughter perform in a play when his 2017 Jeep Wrangler was struck from behind. He was waiting in a long line of stop-and-go traffic that had backed up at an intersection. As the line crept forward, the vehicle behind him, a 2001 Dodge Ram towing a loaded trailer, hit the rear of his Jeep.
Despite the slow speed, the impact crunched the Wrangler's liftgate, tailgate and spare tire carrier and damaged some glass. Worse, the collision left William banged up, including a concussion and stiff neck and shoulders. His Lab, Sadie, had accompanied him on his trip, and she injured her leg when she hit the seat in front of her.
Although the Ram's driver didn't explain what went wrong to cause him to hit William, he did take responsibility for the accident. He and William exchanged insurance information and, since both vehicles were drivable, they went on their way.
Getting help after an accident
Instead of heading to his granddaughter's play, William started his journey through the claims process. That included calls to both the other driver's insurance company and his own company, PEMCO.
William also made the smart move of getting checked out by his doctor. He was placed in concussion protocol, and his medical team outlined treatment options that included chiropractic care as well as physical and massage therapy to relieve pain in his neck and shoulders.
Sadie got checked out, too. Thankfully, nothing was broken, but the pup was sore and limping, and her vet prescribed anti-inflammatory medication to make her more comfortable.
Who pays after an accident?
After talking with both insurance companies, William needed to decide what to do about his crumpled Wrangler and medical bills:
For his vehicle damage, he could choose to have his claim handled primarily by the at-fault driver's insurance company or he could use his own Collision coverage through PEMCO. (PEMCO's Collision coverage also includes $1,000 in veterinary care for pets injured in an accident.) Once the claim was settled, the at-fault driver's insurance company would reimburse PEMCO through a process called "subrogation."
For medical treatment, he could have his bills processed through his PEMCO Personal Injury Protection, which he'd purchased as an optional coverage in Washington (it's required in Oregon) or, had he not purchased Personal Injury Protection, his personal health insurance.
Presented with those choices, many people often ask, "Why can't I choose the at-fault driver's insurance company, like with vehicle damage?" The answer is you can, BUT they won't begin paying medical bills until treatment is complete. That means the injured person potentially would continue receiving bills and even late notices from their medical providers. Using their own insurance now (and having the at-fault driver's insurance reimburse their company at the end) eliminates that source of stress because their own insurer's coverages are set up to pay the bills as they come in.
William opted to rely on PEMCO for both his vehicle damage and medical bills (the other driver's insurance paid some additional costs directly – more about that below). That simplified the process and gave him a PEMCO advocacy team to coordinate and help him through this difficult time.
Options for repairing a vehicle after an accident
Insurance companies in Washington and Oregon can't require consumers to use any particular shop for repairs. Customers are always free to choose their own – but that doesn't mean you're on your own! For people who want help finding a shop, PEMCO offers its Timesaver Repair program, which prescreens providers for quality, price and customer satisfaction. We update the list regularly based on feedback from customers and auto manufacturers. We also have direct-pay relationships with them so customers never have to deal with paperwork or seek supplemental payments if additional damage is discovered after the estimate.
William reached out to his Jeep dealership to recommend a body shop to estimate the damages and repair the Wrangler. The good news – they could return the Jeep to its pre-accident condition. The not-so-great news – because of supply chain bottlenecks and labor shortages, William would be looking at a couple of months before they could even get the Jeep into the shop. And it wasn't just that shop – everyone had similar backlogs.
To avoid the wait, William chose a unique solution. He used a glass shop to repair his glass damage and, with his expertise as an aircraft mechanic, he decided to purchase replacement parts to fix the Wrangler's body damage himself. PEMCO issued him a check for the amount it would have paid a body shop to do the repairs.
William was able to get the truck looking and driving as good as new before any local shops could have scheduled the work. Doing the work himself gave him the option to choose 100% original equipment manufacturer (OEM) parts, which was important to him. You can read more about OEM parts below.
Things to know when navigating an accident claim
Thankfully, both William and Sadie are doing well. He said it took both of them about three months to really feel like their old selves again. The Wrangler is back to helping William safely navigate the snowy roads around his rural PNW home.
Already a safe driver, William hasn't changed the way he handles things behind the wheel because of the accident. The experience did leave him with a few thoughts, though, to share with people who might find themselves in a similar situation:
Don't skimp on following distance. The ample space that William had left between himself and the car in front of him saved him from being knocked into that car by the impact. William's safe-driving choice likely helped him avoid even more serious injuries and additional damage to his Wrangler.

Call the police after an accident. William felt fortunate that the person who hit him took responsibility for what happened and had adequate insurance. However, he knows things could have gone differently. Documentation from an officer would have been helpful had there been a dispute.

Don't be afraid to use your own insurance as well as the other party's. William didn't have to pay his deductible for using his PEMCO coverage (PEMCO recovered it from the other insurer along with its other payments). In some cases, your policy may cover things the other insurer doesn't and vice-versa. In William's case, for example, PEMCO paid vehicle-repair costs and medical bills and got reimbursed from the other driver's company. His company also compensated William directly for things like his recuperation time and travel expenses related to doctor visits. Had William not chosen to drive his second car while he repaired the Wrangler, the other driver's insurance would have paid the costs for a rental car until the Wrangler was fixed.

And while some people may be concerned that using their own insurance could more negatively affect future premiums, that really shouldn't factor into their decision. The reality is, if there is a potential impact, it would be the same, regardless of which company handled the claim.

Understand that a shop's initial estimate doesn't automatically equal the insurance company's final settlement amount. When William took the Wrangler to the body shop for an estimate, the price the shop gave him included all OEM replacement parts. In reaching claim settlements, however, insurance companies and body shops use standardized, industry software for rates on labor and materials that may include a combination of OEMs, some high-quality but lower-cost aftermarket parts and some like-new used parts. William was surprised that the check he received from PEMCO was somewhat lower than the amount he'd seen on the shop's estimate. The PEMCO payment reflected the "insurance" rate (as opposed to the "direct-to-consumer" rate) that PEMCO would have negotiated with the shop as payment in full to restore the vehicle to its pre-accident condition had the work been done there.

Know that you'll be dealing with multiple people. When both injuries and vehicle damage are involved, insurance companies often break up the claim to be handled by specialists in each area. However, there's likely one person who oversees the entire claim.
To William's insights, his PEMCO adjuster Sharise Wiedmer added a few tips to keep in mind for anyone going through a claim for any type of accident. Here's her expert advice.
Before taking a vehicle in for an estimate, check online resources to see what's being said about the body shop. "I really like the ratings from the BBB, because unlike some online review sites, it can't be 'scrubbed' of unflattering information," she said. PEMCO offers these tips for finding a good mechanic, but they also apply to finding a good body shop.

If you're leasing, check with your dealership before authorizing repairs. The terms of your lease may require you to have your work done at a dealership.

Document personal property that's damaged in an accident. The insurance company of the at-fault driver is obligated to take care of things like broken eyeglasses, cracked cell phones or items destroyed in the trunk. In cases where you're at fault, damaged personal property in your car would be covered by your homeowners or renter insurance.
Are you wondering if your policy would give you the same option to use your own coverage (in addition to the at-fault driver's) in a situation like William's? Log in to your PEMCO account and check it for the coverages he used: Collision and Personal Injury Protection. If you don't see them (or aren't sure their limits are high enough), talk to your local PEMCO agent or call a PEMCO representative at 1-800-GO-PEMCO.

Remember, you're entitled to a free policy review at any time.
MORE STORIES LIKE THIS FROM PEMCO:
Real Claims: When a sump pump fails | PEMCO
What to do after an auto accident | PEMCO
Following distance: You're likely doing it wrong, especially during winter | PEMCO
Traveling with your pet – 12 tips for a safe, enjoyable trip | PEMCO