Perspective
How to prepare for wildfire season: 12 steps | PEMCO
May 7, 2023
by PEMCO Insurance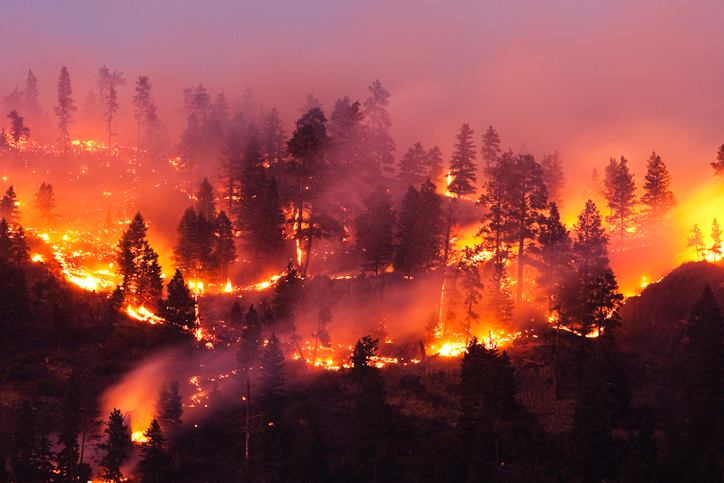 With spring grass now reaching its peak growth (hello, twice-weekly mowing!), it's hard to imagine that lush lawn will turn into wildfire tinder in a couple of short months once the summer heat rolls in. However, wildfire risk is simply a reality for many parts of the PNW and beyond.
Fortunately, you still have time to prep your property and reduce your home's vulnerability to wildfire. As wildfire seasons grow longer and spread their reach from urban-wildland interfaces to the suburbs and even city limits, it's a risk property owners can't ignore.
Here's how this year's wildfire season is shaping up and 12 ways you can help reduce your home's wildfire risk before the season begins:
Is wildfire risk getting worse?
Yes. Increased risk comes from multiple sources, including climate change and development practices. While weather risks can vary from year to year (El Nino vs. La Nina vs. neutral-pattern years), the overall trend is toward hotter and drier.
Last month's NOAA's Climate and Prediction Center forecast called for drought to persist across much of Central Oregon. It also said drought was likely to develop in Eastern Washington. Subsoils remain exceptionally parched. However, it's still possible that the situation won't worsen if the snowpack sticks around a bit longer than usual, delaying runoff.
Wildfire has been a persistent threat for years that, in just the past decade, has become part of everyday life even for people who live nowhere near wildlands. Our polling shows a jump between 2015 and 2019 (the most recent poll on the topic) in the number of customers who say wildfire is beginning to impact their lives personally. The 2019 PEMCO Poll noted more people had to change vacation plans because of wildfires or were bothered by poor air quality.
What can I do to reduce my home's vulnerability to wildfire?
When prepping your home against wildfire, start at the roof, work your way down to the foundation, then move out toward your property line:
Clean your gutters. Accumulated leaves and needles provide tinder for floating embers.
Screen eave and foundation vents with 1/8-inch wire mesh to keep out blowing embers.
Remove boards, debris, and even wood-handled tools stashed under decks. They can provide fuel for a fire that's spreading along the ground.
Screen under decks with 1/8-inch mesh. That prevents ignition from floating embers.
Break up wood fences with metal gates. Fire can easily run along a wood fence, meaning your fence can give fire a pathway straight to your house. A metal gate or shield can interrupt the flames.
Clear away fallen evergreen needles, woody debris, winterkill brush, and dried grass. Keep grass mowed and watered within 30 feet of your home.
Prune trees so the lowest branches – the foliage, not just where the branches attach to the trunk – are at least 15 feet high, and ensure no limbs come within 15 feet of your home. Eliminate "brush to branch" contact.
Ensure tree crowns are spaced at least 20 feet apart.
Mulch with pumice or gravel rather than combustible beauty bark. Consider firebreaks as part of the landscape – ornamental ponds, rocky "dry creek beds," and graveled paths and driveways.
Move firewood at least 30 feet away and uphill from any structure (uphill, since that's the direction fire tends to burn).
Clear vegetation away from propane tanks. Put down weed barrier and spread crushed gravel around the tank to create a 10-foot buffer against flame traveling along the ground.
Make your property firefighter-friendly with your address visible from the street both day and night. Widen your driveway to at least 12 feet so a fire truck can get through.
How does PEMCO help covered customers facing wildfire danger?
If a wildfire threatens a home covered by a PEMCO Homeowner or Dwelling Property policy, property owners may receive complimentary fire mitigation and structural protection services. We've contracted with Wildfire Defense Systems (WDS), a private company that provides hands-on, preventive help like brush-cutting and sprinkler-system setup when their crews are available in the area.
WDS teams of Certified Wildland Firefighters also can create firebreaks, apply fire retardants or fire-blocking gels, and screen foundation vents and areas under decks and outbuildings to prevent embers from blowing in. When the fire threat has passed, the crew will return to remove temporary measures.
Learn more about the free service here. While PEMCO includes it on eligible policies for no additional cost, members always can opt out if they choose.
To verify whether you have it, log in to your pemco.com account, click "Policies," and select "Home." You have it if you see "Wildfire Response Program" listed under Additional Items. On your Declarations page, it appears under Enhanced Coverages. You also can contact your local PEMCO agent or 1-800-GO-PEMCO.
Wildfire safety
Sharing timely, carefully sourced information from trusted safety organizations is an important part of PEMCO's worry less, live more commitment to our PNW neighbors. Check out out these other tips to help you navigate wildfire season:
Evacuations levels and what they mean | PEMCO
Prevent a wildfire with these campfire safety tips | PEMCO