Articles
Cyclists and drivers: tips for sharing the road
May 1, 2023
by PEMCO Insurance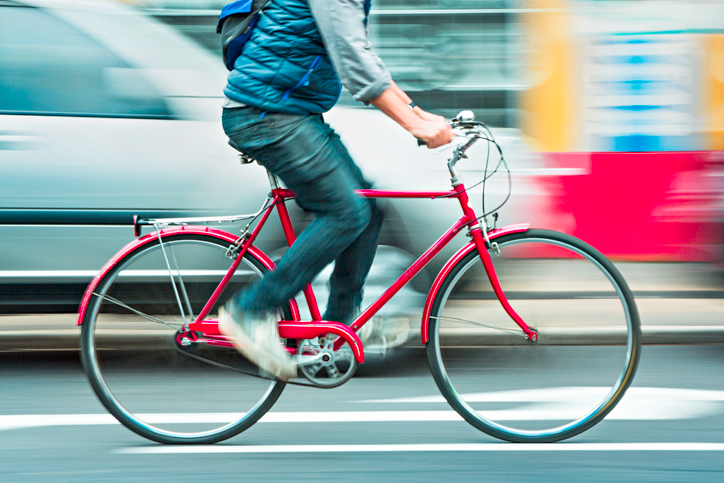 With warmer spring weather just weeks away, about 20,000 bike commuters will take to Portland streets in a daily bid to get more exercise, cut carbon emissions and save money as they pedal to work. If that's you – or you're a driver sharing the pavement with bicyclists – you'll want to do your part to make sure everyone gets to work without white knuckles.
PEMCO Insurance periodically polls bicyclists and drivers to tease apart their "it's complicated" relationship and pinpoint where the two sets of commuters collide (only figuratively, we hope!). More on that below, along with checklists to help everyone safely co-exist.
Has the way cyclists and drivers share the road changed?
The short answer: It's still shaking out. Even before the pandemic, the share of people commuting by bike versus car had begun to drop in the Rose City from its peak in 2014. (The latest figures available show bicyclists made up 5.3% of commuters – 19,553 bicyclists – in 2018 versus 7.2% in 2014.) Organizations like BikePortland note multiple factors may be behind the change, including rising home prices that force people to live farther from work and a corresponding influx of cars driving through bikeable neighborhoods that makes bicycling feel less safe.
Post-pandemic work from home, even as more downtown employers require workers to spend at least part of the week onsite, continues to muddy the picture.
To entice commuters back to the city (and out of their cars), the Portland Bureau of Transportation kicked off a new "Ride Every Wednesday" program that runs through March and April offering free coffee and gift card popups once a week to thank people who commute to the city without driving a car.
As Portland tries to get a clearer picture of its current bike-commuting profile, it continues to rank among the nation's best cities for bicycling (claiming the top spot on some lists), meaning bicyclists and drivers can't ease up on their efforts to cooperatively navigate the streets.
What do bicyclists and drivers really think of each other?
PEMCO commissioned polls in 2019 and 2021 to ask Northwest residents how well they believe cyclists and drivers share the road.
In Portland, 57% of residents said drivers and cyclists do only a "fair" or "poor" job sharing the road in 2019, and in 2021, 59% said the same. The 2019 numbers in Seattle matched Portland with 57% of residents saying drivers and cyclists do a "fair" or "poor" job sharing the road. Seattleites grew slightly more optimistic in 2021, with fewer (just 52%) giving a "fair" or "poor" ranking.
While most agree that both drivers and cyclists have room for improvement, cyclists seem to have a better impression of drivers' ability to follow standard traffic rules. Half of cyclists think that most or all drivers follow traffic rules, whereas only 42% of drivers think that most or all cyclists follow the rules of the road. In fact, about one-fifth of Northwest drivers (19%) say that only a few or no cyclists follow the rules of the road when on their bikes.
In the 2021 poll, 77% of Portland cyclists said they're only somewhat or not at all comfortable sharing the road with vehicles, other cyclists and e-bikes. In Seattle, the number of similarly worried cyclists was 63%.
Checklist to help drivers co-exist with bicyclists
It's a heartbreaking fact of physics: In a bike-versus-car confrontation, the bike and bicyclist always fare worse when it comes to damages and injuries. Cars' potential to do serious harm requires ample attentiveness from drivers:
Allow a generous "space bubble" between your car and a bicyclist. Oregon law clarifies it as "… a distance that is sufficient to prevent contact with the person operating the bicycle if the person were to fall into the driver's lane of traffic." Many people interpret that to mean at least three feet.

Yield to bicyclists in a bike lane. Check blind spots carefully and yield to bicycles when turning to avoid a tragic "right hook" collision with a bicyclist.

Don't enter a bike lane in preparation for a right turn. You may cross it only during the actual turn. (It's spelled on out page 30 of the 2022-2023 Oregon Driver Manual.) In Washington and California, the rules differ, allowing you to merge into the bike lane after you've yielded to cyclists, so you're making your right turn from the curb rather than across the bike lane.

Don't enter a bike box as you wait for a light at an intersection. Cars must stop before entering the painted outline whether a bike is there or not. You must remain stopped until the light turns green. Yield to bikes approaching in the bike lane on the right before making a turn. Free right turns on red are not permitted at an intersection with a bike box.

When parked along a curb, use the "Dutch Reach" to open your door. That is, reach for your door handle with your right hand, which brings your arm across your body and forces you to turn your shoulders and head. If a bike is coming up on your left, you'll see it before you open your door.
Checklist to help bicyclists co-exist with drivers and pedestrians
True to its bike-friendly rep, Portland offers ample resources to bikers in its Portland Biking Guide. Some of its stay-safe, stay-legal reminders:
Do you have a tip that you think would help drivers and bicyclists better co-exist? Please share it below in "Comments."
NOTE: While we're experts in loss prevention and auto/home safety, we don't consider ourselves experts in traffic laws or their enforcement. Information shared here is for educational purposes only and is not legal advice. If you have legal concerns, we urge you to contact a law enforcement source or attorney in your community.
MORE STORIES LIKE THIS FROM PEMCO:
8 tips to bring your bike out of storage | PEMCO
Fitting bike helmets for children | PEMCO