Perspective
Everything you need to know about buying (and insuring) a new car
December 30, 2022
by PEMCO Insurance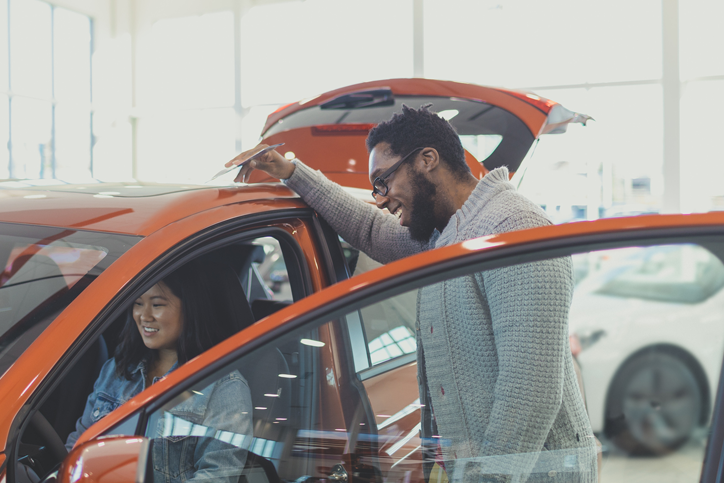 New Year, new ride? With new-car selection improving and prices stabilizing, now may be the time to stop making do and replace your old car with a newer, safer model.
January, historically, is a smart time to buy. Dealers are willing to mark down last year's remaining models to get them off the lot. And this year, that lower price can help offset higher interest rates if you need to finance your purchase (more about that below). Plus, you won't be competing with the coming uptick in buyers during February and March who plan to use their tax refunds as their down payment.
Before you hit the lots, though, research, research, research. Here's what to know about must-have safety features, getting the best deal and finding the right auto insurance for your new car:
What safety features should my new car have?
If you're a regular Perspective reader, you know this mantra from our Claims experts: "Buy all the safety you can afford." Larger vehicles are generally safer in a crash than smaller vehicles (even when both receive top ratings). All-wheel or four-wheel drive keeps you safer in less-than-ideal road conditions. And good reliability ratings save you more than just repair bills, since being broken down on road's shoulder is far more dangerous than most people realize.
PEMCO has partnered with the Insurance Institute for Highway Safety (IIHS) for more than 30 years in using real-world data to improve safety for all drivers. We urge you to check out its latest Top Safety Picks and Top Safety Picks+.
You'll want to include as many of these safety features as possible on your must-have list:
Automatic emergency braking. Sensors detect if you're approaching a vehicle in front of you too quickly. Your car will sound an alarm and, if you don't respond, automatically (and firmly!) apply the brakes to try to prevent a rear-end collision.

Adaptive cruise control. When engaged, your car will automatically keep a safe following distance from the car in front of it by adjusting acceleration and automatically braking if necessary.

Blind spot detection. Your car will alert you to vehicles approaching in your blind spot, usually with an orange icon in the side mirror or, on some models, sounding a tone or vibrating the seat. A huge benefit when changing lanes!

Pedestrian detection. Sensors detect if there's a pedestrian in your path, causing your car to either sound an alarm or, on some models, brake to avoid them.

Forward or backward collision warning. Your car sounds an alarm if you're too near an object or other vehicle, alerting you to brake or swerve to avoid a collision.

Rear cross-traffic alert. Warns you if another vehicle is about to cross your path as you're backing up.

Automatic high beam headlights or adaptive headlights. Studies show that most drivers underuse their high beams, which double the amount of distance illuminated and can be effective in deterring wildlife from wandering into your path at night. Adaptive headlights move side to side as you turn the steering wheel, making it easier to see on corners.

Surround-view parking cameras. These complement standard backup cameras, which have been required on all new cars sold in the United States since 2018. Surround-view cameras give you a birds-eye view of your car's position so you can more easily center yourself in a standard parking spot and line up your car to successfully parallel park.

Driver alertness monitor. Most systems work by alerting you if they detect you're drifting within the lane, often an indicator of drowsiness.
To learn more about these and other newer crash-prevention technologies, check out mycardoeswhat.org.
Should I lease or buy a new car?
Financial experts recommend you spend no more than 20% of your monthly income on car expenses (monthly payment, maintenance, fuel and insurance). Higher interest rates are complicating decisions for today's car buyers. The average monthly new-car payment has reached $718, according to NBC News, and left some consumers feeling they have no choice except an older used car, with fewer safety features, higher mileage and, potentially, more repair bills in their future.
If that sounds like you, you may want to consider leasing a modestly priced new car for a couple of years instead of buying. That would give the economy time to moderate without forcing you to make a long-term commitment you might come to regret. Generally, monthly lease payments are lower than loan payments (be sure to calculate additional upfront and lease-end fees, including potential mileage overages), and by the time your lease is up, you may be in a better financial position to buy a new car.
There's a lot to think over, and Consumer Reports breaks down the pros and cons of buying versus leasing.
How can I make sure I'm getting a good deal on a new car?
If you do decide to purchase a new car, these negotiating tips can help:
Know the fair market value of every car you're considering. Narrow your choices at home in front of your computer, not standing at the dealership, swooning in the new-car smell.

Get preapproved financing from a bank or credit union. That allows you to negotiate the price of the car without dealer financing getting tangled up in the conversation. Also, make sure your financing is good for used cars in case you find a low-mileage, well maintained three-year-old car (often considered the sweet spot of car-buying), since it can save you thousands in depreciation, will have many up-to-date safety features and likely still have some factory warranty left.

Seek a reputable dealer, but don't get locked into one. Visit several, see what they're willing to do for you and be willing to walk away.

Take good notes. Details run together after visiting a few dealerships. You may be able to use competitor offers as part of your price negotiations.

Don't commit until your significant other test drives the car. A car can tick all the boxes during the research phase, but if either of you don't like how it drives, you won't feel satisfied for long. Ask to take it out on the highway and drive some hilly and curvy roads. If it's bigger than your current car, ask to drive it home to make sure it fits in the garage.

Get every promise in writing. Did the salesperson say their shop could buff out a scratch at no charge? Include that in the purchase agreement.

Don't talk about a trade-in until you've negotiated price. Save it as a final bargaining chip to get your business. There's a lot to consider with a trade-in, from tax implications to your personal safety if you opt to sell the car privately. You'll want to explore your choices.
How does buying a new car affect my insurance?
Since a new car will be worth more than your current car, expect to pay more to insure it (other characteristics about the car may change its risk profile, too). Also know that even similar new cars can have very different premiums. That's because certain makes and models have higher repair costs or tend to be thief magnets. That's why it's a good idea to call your local agent, 1-800-GO-PEMCO or check costs on pemco.com before you commit to buy. Insurance costs can be a good tiebreaker if you're torn between two models.
Other things to know before bringing home a new car:
The dealer's insurance covers the car during your test drive, but once you take possession, the responsibility for coverage is yours.

Before you take the keys, check your policy to confirm coverage or, for instant peace of mind, go online or call us to list the car on your policy. Even if you forget to call us in the excitement of buying a new car, PEMCO automatically extends coverage to your new car. We match the insurance on the vehicle you've traded in for 60 days. Or, if you aren't trading in, we'll extend the broadest coverage for any car on your policy for 30 days. BUT, if you own older cars and have dropped comprehensive and collision coverages to save money, you must tell us if you want comprehensive and collision coverages for the new car and pay the additional premium. Comprehensive and collision are the coverages that pay to fix the car if it's damaged.

Consider gap insurance if you're financing. Because new cars depreciate steeply at first, it's possible that you could find yourself underwater on your loan if you finance most of the purchase price and total it shortly after buying. (Insurance settlements pay current market value, which can be less than the balance left on the loan.) You can buy gap insurance through us or your lender and drop it once your car's value and loan are in sync.
Bringing home a new car can mark a great start to the New Year. Let us know if you have questions, and be sure to check out Auto insurance coverages and what they mean to understand how the pieces of your PEMCO auto policy work together to protect you and your new purchase.
MORE STORIES LIKE THIS FROM PEMCO:
Seven things you never thought about when buying a car | PEMCO
Is now the time for an EV or hybrid? | PEMCO
How to insure a new car | PEMCO