Perspective
How to insure a new car
June 24, 2022
by PEMCO Insurance
Knowing how to insure a new car starts with understanding the coverage you already have – and how it does or doesn't carry over to your new purchase.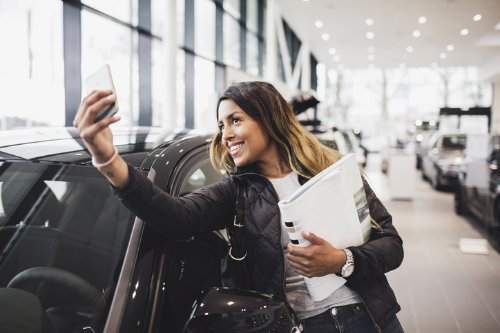 Lately, we've seen a slight uptick in questions about coverage for new cars, as potential car buyers venture back onto dealer lots. Inventories for used cars have begun to loosen slightly, according to Kelley Blue Book. Analysts at J.D. Power predict new car prices should stabilize by the end of the year, too, at least enough so that buyers aren't forced to pay more than the manufacturer's suggested retail price (MSRP). If you're considering a car purchase, here's what you need to know about insuring it.
Why does my current coverage matter?
So that you can drive your new car home with confidence, your PEMCO protection automatically covers it, giving you time to notify us.

However, how that coverage applies can differ. If you're trading in a car, the new car automatically will have the same coverage as the car you replaced for 60 days. If you're adding a car, it automatically will have the broadest coverage available for any car on the policy for 30 days. That distinction matters if you currently don't have comprehensive and collision coverage on your cars (owners of older cars often drop them to save money), because that affects whether the new car's automatic protection will include it. (Comprehensive and collision are the coverages that pay to fix the car if it's damaged.)

Check your policy to confirm coverage or, for instant peace of mind, go online or call us to list the car on your policy as soon as you take the keys. The dealer's insurance covers the car during your test drive, but once you take possession, the responsibility for coverage is yours.
Does it matter if I'm financing or paying cash?
Yes. A new car becomes a used car the moment you drive off the lot, meaning it depreciates in value. Steep depreciation continues during the car's first two years. If you've financed most of its purchase price and it gets totaled in an accident not long after you buy it, you could find yourself "underwater" on your loan – owing more on the car than you'll receive in an insurance settlement. That's because insurance pays based on the car's value at the time of the accident, not its purchase price or the amount financed. To avoid that risk, you can add "gap insurance," which is available through us or your lender.
How do I decide how much coverage I need?
Washington and Oregon require minimum insurance coverage limits to drive legally. But "minimum" is an important word, since those limits would leave you unprotected in many accidents. Insurance policies are like puzzles – individual pieces make up the whole picture. Here's what each coverage does, and a PEMCO representative or your local PEMCO agent can help you understand more about each and whether you need them.

If you borrowed money to purchase your car, your lender likely requires you to maintain certain coverages for as long as you have your loan.

Ready to learn more about car-buying? Visit our blog to find articles like this: Seven things you never thought about when buying a car.