Perspective
Protect your boat from theft, spot stolen-boat scams
May 25, 2022
by PEMCO Insurance
Don't lose your boat to a thief or get scammed in a shady boat deal. June and July are top months for boat theft in the Northwest, so now's a great time to learn how to protect yourself.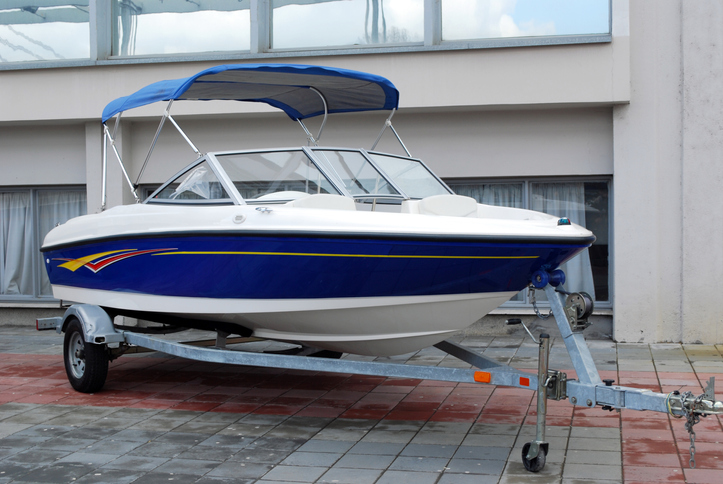 How can I make my boat a harder target for thieves?
Most of us store our boats at home and, unfortunately, not everyone has a secure garage. If you must keep your boat outside, think holistically about protecting it – not just the boat itself, but its trailer, motor and onboard gear:
For the trailer
Attach the trailer to a fixed object. That could include installing a ground anchor. If that's not an option, run a length of chain through a trailer wheel, around the trailer and secure it with a padlock. While that wouldn't stop a determined thief with bolt cutters, it might encourage most to move on to an easier target.
Add trailer wheel and couple locks. A wheel lock is comparable to the boots used by parking enforcement. Couple locks (also called tongue locks) further protect your trailer at its most vulnerable point, the hitch.
Park in the backyard or behind the garage, if possible, so your boat and trailer aren't handy to the street.
Turn the hitch toward the house if you do park in the driveway, so the trailer must be turned around before it can be towed.
Block access to the trailer with a car.
For the boat, motor and gear
Padlock outboard motors to the boat (remove and store them indoors during winter).
Protect the pricey lower unit on outboard or inboard/outboard boats. This is the part containing the 90-degree gear drive and propeller. Consider adding locking bolts or other security devices. There's huge demand for lower units on the used-parts market (they're susceptible to damage by submerged objects), making them an easy, often untraceable, sale for thieves.
Don't store fishing gear, water skis and other possessions on the boat.
Add a GPS tracker. If a thief does manage to get away with your boat, a tracking device will help law enforcement recover it.
Install an automatic outdoor light over the boat and make sure outdoor security cameras cover the area where you store your boat.
How can I tell if a boat for sale might be stolen?
Jet Skis and runabouts top the most-stolen list, but no boat is immune. While reputable dealers verify ownership before selling a boat, you don't have that safeguard when buying from a private party. Here's how to protect yourself:
Look up the boat's value on a site like NADAguides.com. It's a red flag if a boat is priced significantly below its market value.
Talk with the owner and look at the paperwork. If the seller seems vague about the boat's history, has no maintenance records or has personal ID that doesn't match the name on the boat's title or registration, beware. The seller should also have both the title and registration. The registration alone doesn't prove ownership or verify there's no lienholder. And think twice if the boat is jointly owned but only one owner is present. In acrimonious divorces or soured friendships where people co-own a boat, one party may try to sell it without the other's knowledge.
Make sure everything goes together. Does the motor seem too big or too small for the boat? How about the trailer? Are they the same age and condition or does the package seem oddly cobbled together?
Examine the hull identification numbers (HIN). They're akin to the VIN on a car and are located on the transom of most small boats. Look for evidence of altering, like scratched numbers or fresh paint. Numbers should match what's on the registration and title. You can use the HIN to get a boat history report (comparable to looking up a used car's VIN on a service like a CARFAX®) to check for reports of accidents, damage, theft and more. MarineTitle.com offers a free stolen boat registry search.
Examine the registration numbers (three-inch block letters on the forward half of the hull; the equivalent of a car's license plate). They're usually affixed with strong adhesive, and if they've been recently changed, you may be able to feel residue where old numbers were removed. An expired validation sticker next to the registration numbers isn't necessarily a sign of trouble; it could just mean the boat has been in storage for a long time. Learn more about boat registration in Washington and Oregon.
If you suspect a boat may be stolen, don't confront the seller and make a friendly but noncommittal exit. Don't communicate with the seller again, and share your information and concerns with law enforcement.
How big of a problem is boat theft in the Northwest?
The National Insurance Crime Bureau considers the Northwest a boat-theft hotspot, with Washington ranking 7th nationwide and Oregon ranking 16th (Florida is, by far, No. 1). Law enforcement in Washington and Oregon have a 50% recovery rate for stolen boats, which is better than all but a handful of states.

Ready for more safe-boating know how? Check out Must-do boat safety checks and Eight ways to avoid buying a floating lemon.