Perspective
Supply Surge School Supply Drive – Are you in?
July 23, 2019
by PEMCO Insurance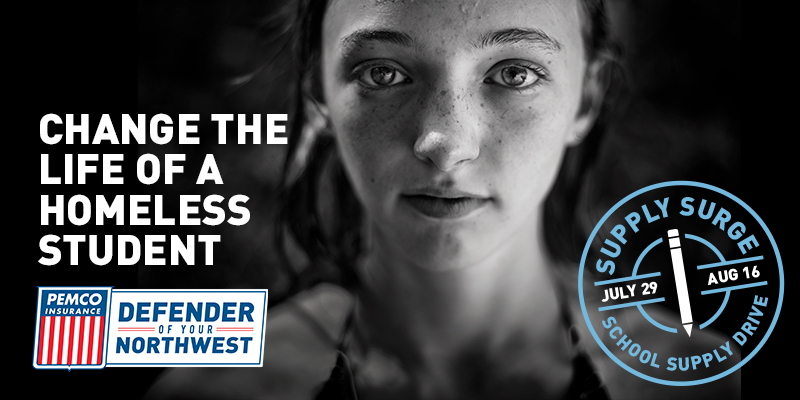 Here's an easy way to make a difference for thousands of Northwest kids impacted by homelessness: Join the Supply Surge School Supply Drive, powered by PEMCO.
Through Aug. 16, PEMCO and partnering South Lake Union businesses are committed to collecting thousands of school supplies for local middle and high schools that serve a high percentage of homeless students. In addition, employees at our Lynnwood and Spokane offices are coordinating donation drives for middle schools in their areas. The supplies will support kids at risk of dropping out simply because they lack basics like pencils, calculators and composition books.
Join the Surge three ways:
Shop and donate online.


Shop for supplies online and donate with a few clicks! Go to pemco.com/supply-surge and choose "PEMCO" from the company names listed. You'll be emailed a receipt for your donation at the time of purchase.

Shop and ship.


PEMCO will collect and distribute supplies to Seattle schools at the end of the drive. You're welcome to send donations or contributions to us at:
PEMCO Insurance
ATTN: SUPPLY SURGE
1300 Dexter Ave. N.
Seattle, WA 98109


Please write "SUPPLY SURGE" on the check's memo line.


Shop and donate supplies in person at participating businesses.


Through Supply Surge, caring individuals and local businesses are combining strengths to do more for more! Last year, Supply Surge collected more than 100,000 items benefitting over 5,500 students! We think we can beat that this year – especially with your help in sharing the campaign on social media! Won't you join us again in partnering with our neighbors for good?