Articles
PEMCO & the Red Cross team up to teach students about safety
November 7, 2019
by PEMCO Insurance
Earthquakes and fires and storms, oh my! Natural disasters can happen at a moment's notice and we often have little time to react. To help our communities know how to respond in the case of an emergency, PEMCO Mutual Insurance and the American Red Cross have partnered to bring safety and emergency preparedness training to hundreds of elementary school students in Seattle and Spokane through PEMCO's "Safety Surge" initiative.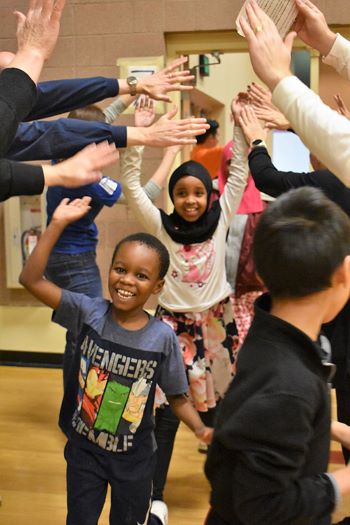 The 2019 Safety Surge occured throughout November, with PEMCO volunteers guiding more than 560  third- through fifth-grade students at Rising Star, Bailey Gatzert and Lidgerwood elementary schools through the Red Cross Pillowcase Project curriculum. Using interactive demonstrations, the volunteers helped local youth mentally and physically prepare for emergencies.

"Preparedness is more than just having a few extra batteries hidden away and a drawer full of Band-Aids. It's about having a plan for if things go wrong and being able to respond as quickly and as calmly as possible," said MJ Vigil, vice president and chief people and brand officer at PEMCO and board member for the American Red Cross, Northwest Region. "We are proud to team up with the Red Cross to build that kind of confidence in the next generation of leaders. The resilience these kids learn now is invaluable and will help them cope in less-than-ideal circumstances."
In the Northwest, earthquakes, house fires and winter storms are just some of the crisis situations that families could face, and children can be especially vulnerable. Bringing this information to youth in a fun and engaging way gives local students and their families access to emergency preparedness training they might have otherwise not received.
Natural disasters can be a scary topic for children to understand – and a tough one for parents to explain. Our recent blog post has some helpful tips on how to talk to kids about emergencies. 

For more insight into our mission to promote safety education within our communities, visit the Mutual Good section on pemco.com.