Articles
Car break-ins: what to know
April 19, 2023
by PEMCO Insurance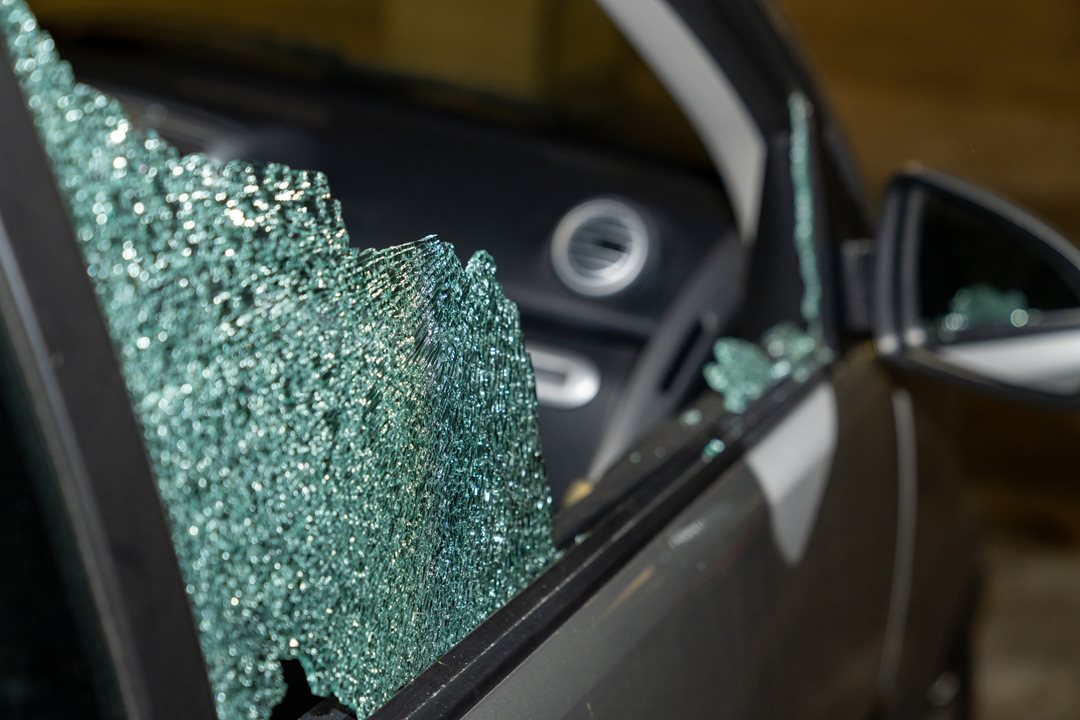 Here's a stat* from the FBI that will make you think twice about tossing your shopping bags into the backseat: Thieves targeting property left in cars (along with car accessories like stereos) account for more cases of non-violent theft than even shoplifting – 33% compared to 22%.
While no car is exempt from being broken into, you can put the odds in your favor when you make your car a less attractive target. And if you're still a victim of a "smash and dash?" Chances are, your insurance can help. Here's what to know and do in the stressful hours after a car break-in:
What to do if your car is broken into
Stay calm and stay cautious. As soon as you realize something is wrong, stop. Don't approach the car unless you're sure the thief is gone.
Document the damage. Take pictures of damage like a pried-open door, broken window, and ransacked interior. Your pictures become evidence for the police and your insurance.
Check your belongings. Make a list of missing items and note their value.
Move the car to a secure location. If a window is broken or the car can no longer be locked, you're at risk from thieves who may be looking to steal the entire car.
File a police report. Even though the thief is long gone, you improve the chances of getting your property back, and you may help the police in identifying potential car-prowl hotspots. Plus, you'll want the police report number if you decide to file an insurance claim.
Call 1-800-GO-PEMCO or go online to report a claim 24 hours a day. Depending on the coverages you've selected and the extent of the damage, your insurance may be able to help (more on that below). We also can connect you with PEMCO ID Smart™ to help head off identity theft if any personal information was stolen out of your car. As a PEMCO customer, you automatically get confidential access to a personal fraud advocate who can help you understand your risks and guide your next steps. The service is free to all family members who live in your home, and you're welcome to use it anytime, even if you don't file an insurance claim.
What type of insurance covers damage and my stolen belongings?
If you selected Comprehensive coverage on your auto policy, it could cover the damage the thief caused while breaking into your car, like a smashed window or jimmied door. It also would cover stolen equipment that's attached to the car, like your stereo.
For belongings stolen out of your car, your homeowners or renter policy would cover it under your personal property protection. That would take care of things like laptops, cell phones, shopping bags, sunglasses, sports equipment, and apparel (all common targets).
Claims are subject to policy deductibles (that's the amount you agree to cover out of pocket on a claim before insurance coverage kicks in). If a single claim involves coverage from two PEMCO policies – in the case of a car break-in, your auto policy for damage to your car, and your home or renter policy for stolen personal property – PEMCO would waive the lower of the two deductibles.
If you find the cost of repairing damage or replacing the stolen items isn't much more than your deductible, you may decide it's not worth it to file a claim. Claims (even if they're not your fault) combined with future tickets or accidents could impact your premium. It also would disqualify you for certain discounts, like PEMCO's Home and Renter Claim-Free Discount. If in doubt, ask your PEMCO representative when you contact us.
If you do decide to file a claim for damage to your car, you'll receive a settlement up to your policy limits (minus any deductible that applies). For stolen property, you would receive its actual cash value at the time of loss (minus any deductible that applies) and, once you replace it, you would share your receipt with PEMCO so we can reimburse you the difference between the "used" and "new" cost for an item of like kind and quality. When filing a property claim, it's always helpful if you've documented the stolen item on your home property inventory.
How can I prevent my car from being broken into?
While nothing can guarantee that your car won't be broken into, you can take important steps to minimize the risk:
Park in well-lit areas. Spots in view of security cameras or with heavy foot traffic help discourage thieves. If you have the option to park in a garage, it's worth cleaning it out to make space for your car.
Lock your car and make sure its alarm system is working. Law enforcement tells us that about half of car thefts (and likely, even more car break-ins) involve a car that the owner accidentally left unlocked or kept a window ajar. Secure your car, even if you're leaving only for a few minutes.
Keep your car cleaned out. Your idea of "valuables" and a thief's may differ. A backpack or even a coat left in the backseat may be enough to convince a thief there's something worth stealing in your car. If you have no choice except to leave items in your car, at least keep them out of sight in the trunk and put them there before you park.
Carry your vehicle registration and insurance ID with you. Many people mistakenly believe they must keep their registrations and insurance ID in the car at all times (some even keep them in a pocket on the visor). However, under both Oregon and Washington law, you simply need to have them with you in case of an accident or if a law enforcement officer requests them. By safeguarding them the same as your driver's license, you can short-circuit identity thieves looking to cash in further after a car prowl.
Take your garage door opener, too. If they're able to find your address (perhaps on a piece of mail in your car), car prowlers may be able to use your garage door opener to gain entry to your home and burglarize it, too.
We're with you, PNW!
Sharing timely, carefully sourced information from trusted safety organizations is an important part of PEMCO's worry less, live more commitment to PNW drivers. To learn more, check out our auto crime prevention collection, and please let us know in "Comments" about topics that interest you.


*FBI data is from 2019, the latest year for which the agency has complete data publicly available.
PEMCO ID Smart™ is powered by Cyberscout®, a TransUnion brand, the nation's leading cyber products and services provider for the insurance industry. Cyberscout is part of Sontiq™, a TransUnion company.
MORE STORIES LIKE THIS FROM PEMCO
How to protect your car from theft | PEMCO
How to protect against catalytic converter theft | PEMCO
Practical tips to prevent road rage | PEMCO