Articles
The best places to see fall foliage around the PNW
October 7, 2022
by PEMCO Insurance
What's the best part of fall (second only to pumpkin spice, of course)? The beautiful fall foliage of the Pacific Northwest! While this region is known as a major tech hub and skyscrapers are a-plenty throughout Seattle and Portland, you don't need to look too far to find the rich, vivid colors of nature during fall.
Whether you want to visit a quintessential tourism hotspot like Mt. Rainier National Park or check out a secluded trail somewhere deep in the Cascades, we've got the best places for you to check out before the colors are gone.
Silver Falls State Park
Willamette Valley, Ore.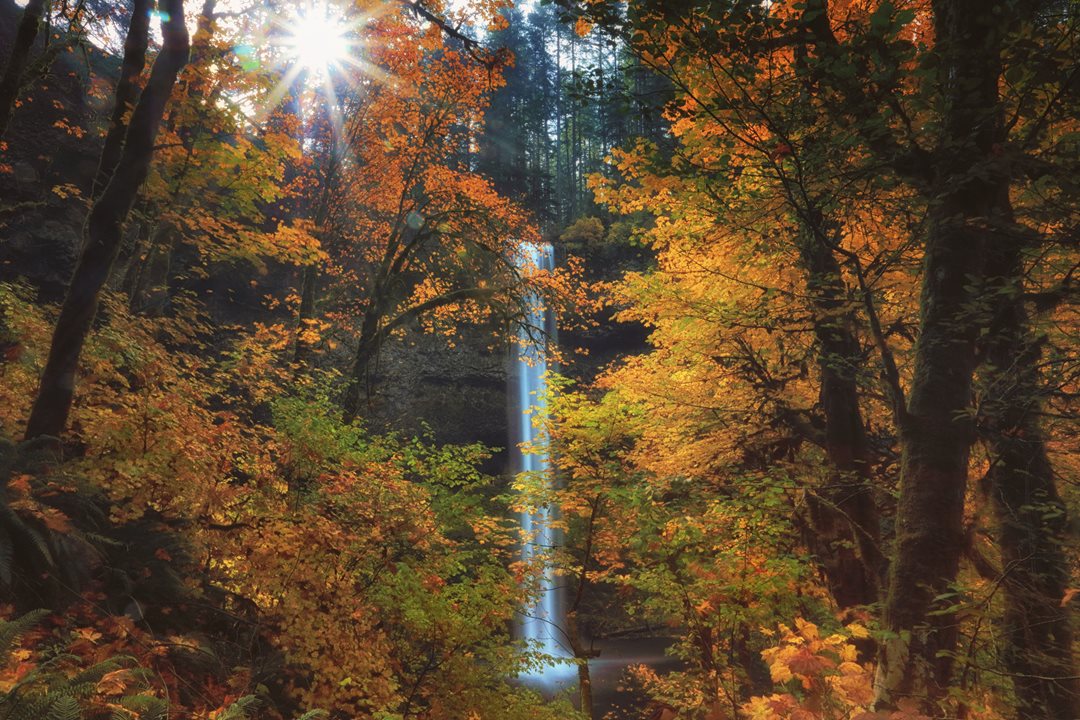 While the Trail of Ten Falls (located within Silver Falls State Park) is mesmerizing all year long, there's nothing quite like the magic of seeing this canyon lined with majestic hues of red and orange during October.
Why it's great: Not only will you see a stunning array of color from the alders and vine maples, but you'll be able to see—you guessed it—10 different waterfalls. Depending on recent weather, the falls can gentle trickles or roaring behemoths.
When to go: Mid-to late-October
What to know: The Trail of Ten Falls is a seven-mile hike in Silverton, Ore. It's rated as "moderate" with an overall ascent of about 1400 feet. The route is considered family-friendly, but no dogs are allowed. On average, it takes about three and a half hours to complete. Don't forget your camera—the views are remarkable, to say the least.
Hoyt Arboretum
Portland, Ore.

If you're short on time and can't venture out to more rural areas for a day trip, Hoyt Arboretum is a great option. Easily accessible by Portland public transportation, it's a convenient place to thoroughly soak up the beauty of autumn. Some people have said it's home to the prettiest fall foliage in the entire state of Oregon.
Why it's great: The arboretum was founded nearly 100 years ago to conserve endangered plant species. It's known as a "living museum." Today, it spans over 190 acres, and includes 12 miles of hiking trails in addition to dozens of gardens, guided walking tours, and both volunteer and educational opportunities.
When to go: Mid-to late-October
What to know: Hoyt Arboretum is located only a couple minutes from downtown Portland. Simply walking the trails is a stunning visual experience, but there are also opportunities to take guided tours on the weekends or take classes on things like bird identification or botanical illustration. For kids, there are preschool walks and Forest Days. For details, visit hoytarboretum.org.
Washington Park Arboretum
Seattle, Wash.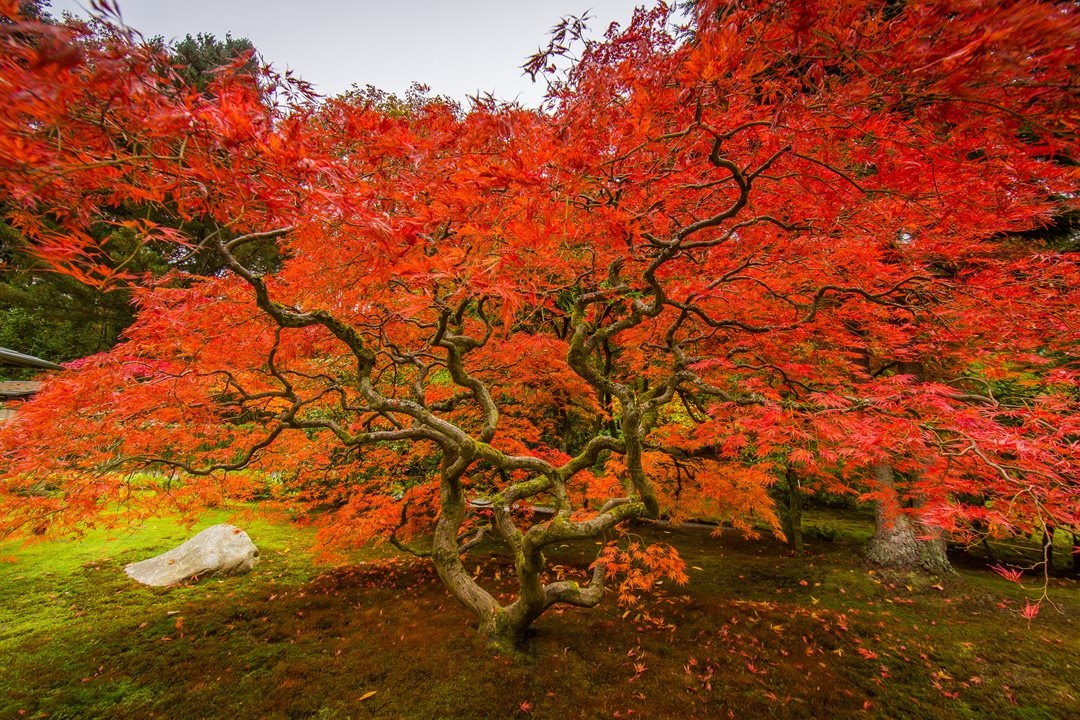 If you aren't looking for a hike and want to be closer to the amenities of the city, this might be the perfect outing for you. Overall, the arboretum covers 230 acres and has over 4000 species of plants, trees, shrubs, and vines. During fall, you'll find nothing short of splendor.
Why it's great: We think this is one of the most photo-worthy places in the Pacific Northwest during fall (lookout, Instagram followers!). There are many different gardens within the arboretum, but the Woodland Garden has one of North America's largest collections of Japanese maples. In the fall, you'll be wowed by its electric shades of orange, crimson, and pink.
When to go: Mid-October
What to know: The arboretum is located just east of the Montlake Cut and nestled into the shores of Lake Washington. The visitor's center is open Wednesday through Sunday, with a gift shop that follows the same hours. While many of the gardens are free, the Woodland Garden does have a fee. It is operated by the City of Seattle.
Mount Rainier National Park, Wash.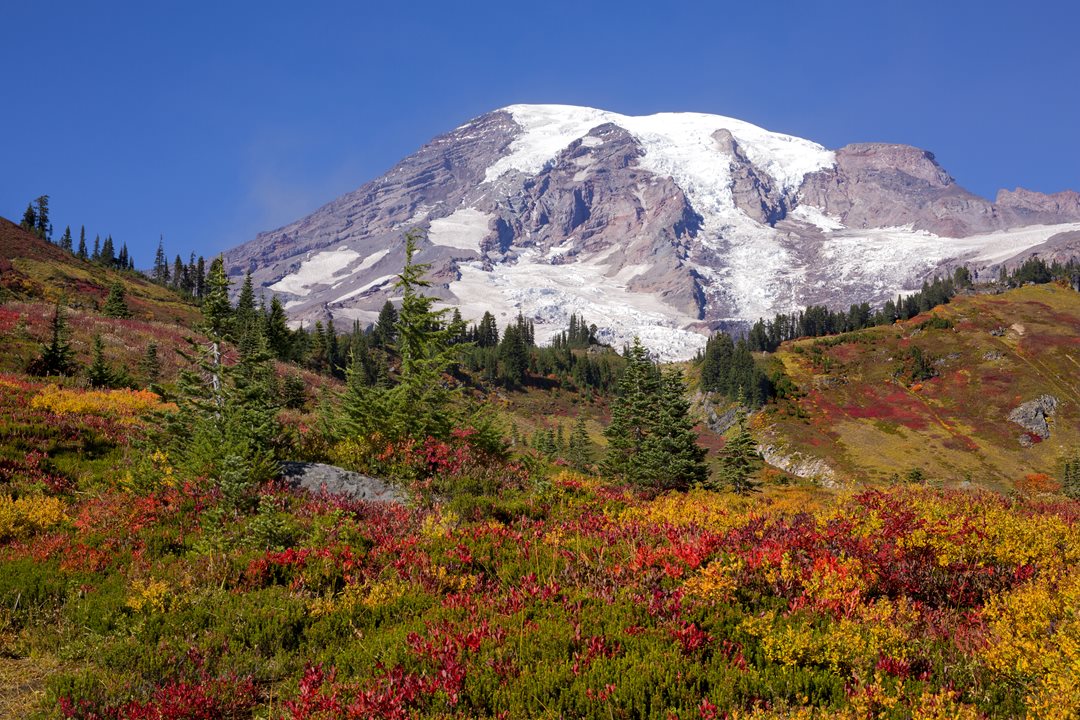 It's no secret that Mount Rainier is an unparalleled destination for winter activities, as well as both spring and summer wildflower experiences. But fall is certainly not to be missed. The Skyline Trail, in the Paradise area, offers unrestricted views of the mountain, with vibrant shades of shrubs in every single direction. Contrasted with the snowcapped mountain, it's a sight to behold (many people have said the colors are so bright, it looks like the meadows are made of flames!).
Why it's great: Have you ever wanted to get up close and personal with the Paradise Glacier? Now's your chance, and you can do it while walking through sub-alpine meadows and taking in one of the PNW's most coveted viewpoints.
When to go: Mid-October
What to know: You will find the mountain ablaze with color all through October, but we specifically like the Skyline Trail. It's about five miles long and easy to get to by car. The trail starts and ends at the Paradise Visitor's Center. For a shorter version of this loop, you can take the Golden Gate Trail back, or check out the Myrtle Falls lookout trail. It's fully paved and even accessible with a stroller or wheelchair (with help). Trust us...the views at Paradise in October are extraordinary.

Leavenworth, Wash.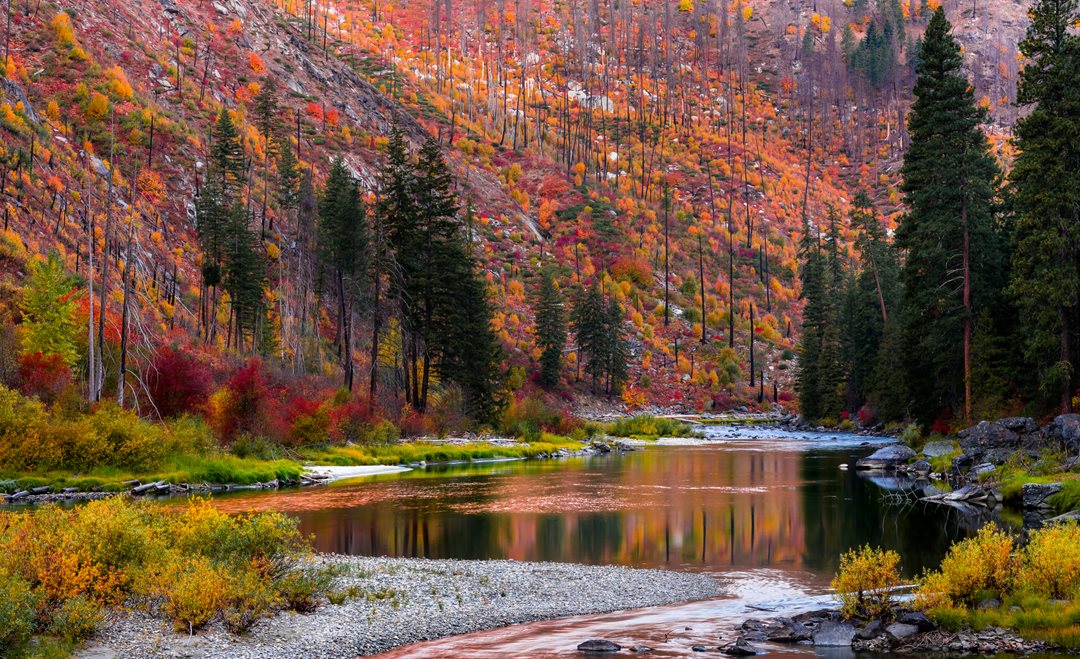 Leavenworth is one of those PNW gems that is lovely all year. In winter, you get all the festivities of the holidays (plus beautiful snow and skiing!). In the spring, the Cascades are alive with wildflowers and it's the perfect time for white water rafting. In summer, there's glorious mountain biking and hiking trails and paddleboarding on Lake Wenatchee. But fall is special. The displays of gold and yellow almost seem technicolor, and the whole Bavarian village feels like it's wrapped in warmth. But of course...the real highlight of the fall is Oktoberfest.
Why it's great: Leavenworth is a fantastic starting point to dozens of trails throughout the Cascades that will allow you to see even more of fall's glory. Some of the autumn vistas that are easily accessible from Leavenworth are: Lake Wenatchee, Apple Capital Loop Trail, and Tumwater Canyon.
When to go: Mid-October (note: Oktoberfest is usually on the first, second and third weekends of October)
What to know: Leavenworth can be extremely busy in October because of Oktoberfest. Be sure to check the city's event page and know what you're getting into before you go. If you plan on dining or staying in the town, be sure to make reservations in advance if you can.
Green Bluff Growers
Spokane, Wash.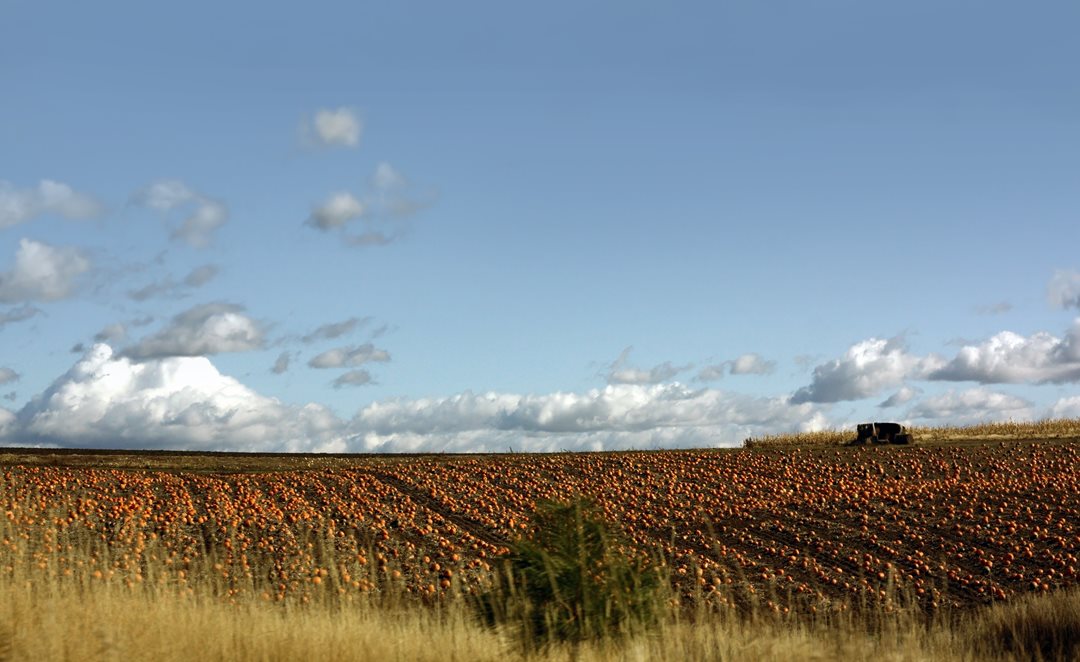 Green Bluff is a collection of family-owned farms about 15 minutes north of Spokane. Depending on the time of year, it offers the opportunity to "U-pick" cherries, peaches, apples, strawberries, pumpkins and other squash, and even Christmas trees! During the fall, it's known as one of the best places in Spokane to take family photos and is basically a pumpkin patcher's paradise.
Why it's great: With so many different farms, there's something for everyone (not to mention some of the best colors of the year!). Each farm offers something different, from U-pick pumpkins to pony rides to eating and drinking experiences. For all of the things Green Bluff has to offer, visit Green Bluff Growers – Spokane, Washington
When to go: Fall festivities are offered during the whole month of October.
What to know: If you're looking for a quintessential fall experience at Green Bluff, you'll want to check out Beck's Harvest House (for this, you'll want to reserve parking in advance), Siemer's Farms, and Hidden Acres.

For an interactive map of fall foliage color predictions across the country based on date, click here. It gives you a great idea of what to expect (and in what area) depending on the week.