Perspective
Parent-to-Parent: Favorite sites to keep the learning going
March 29, 2020
by PEMCO Insurance
Like you, many PEMCO team members are balancing work from home while they try to keep their kids academically engaged until schools reopen. They shared some great resources to support each other, and we thought you'd like them, too.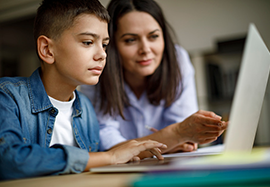 All-in-one site
Amazing Educational Resources. Start here! You'll find scores of free educational sites for preschoolers through college-age students.

For scientists
Pacific Science Center. Although PSC is closed, you can check out plenty of activities, experiments and cool videos.

For budding readers and mathematicians
ABC Mouse. If you have a pre-K to second-grade student, you may be able to use ABC Mouse for free (check with your school district for your school's code). Or, if you don't have a code, the site offers a free 30-day trial.

For chefs
Milk Street Cooking School. Get the whole family in the kitchen! Milk Street Cooking School is offering free classes through April 30.

For nostalgia
Scholastic magazines. If you were one of those kids who couldn't wait for the Scholastic book order at school, you'll love this learn-at-home site to keep your kids reading.

For nature enthusiasts
Artsandculture.withgoogle.com. Your kids won't feel so cooped up when they take a virtual tour of the nation's beautiful national parks.

For coders
Tynker.com. Great for kids up to eighth grade who want to see what computer programming is all about. Normally a subscription site, it's free during school closures.

For history buffs
History for kids. Games, videos and worksheets make history across the world come alive.

For writers
Squigly's Playhouse. Make funny online stories with mad libs.

For story-lovers
Audible.com. Audible has set up a free website to stream kids' and teens' free audiobooks, no membership required.

We know there are plenty of amazing sites we haven't mentioned. If you have a favorite, please share it below in Comments!