Perspective
Offseason tips to reduce wildfire risks for next year
December 6, 2021
by PEMCO Insurance
Why think "wildfire prevention" in December? The offseason months – when you're not occupied with maintenance like clearing brush or watering your landscape – are a perfect time to focus on once-and-done kind of tasks to permanently reduce your home's vulnerability to wildfire. Focus on your home's exterior, fire-resistant remodeling options and hardscape choices: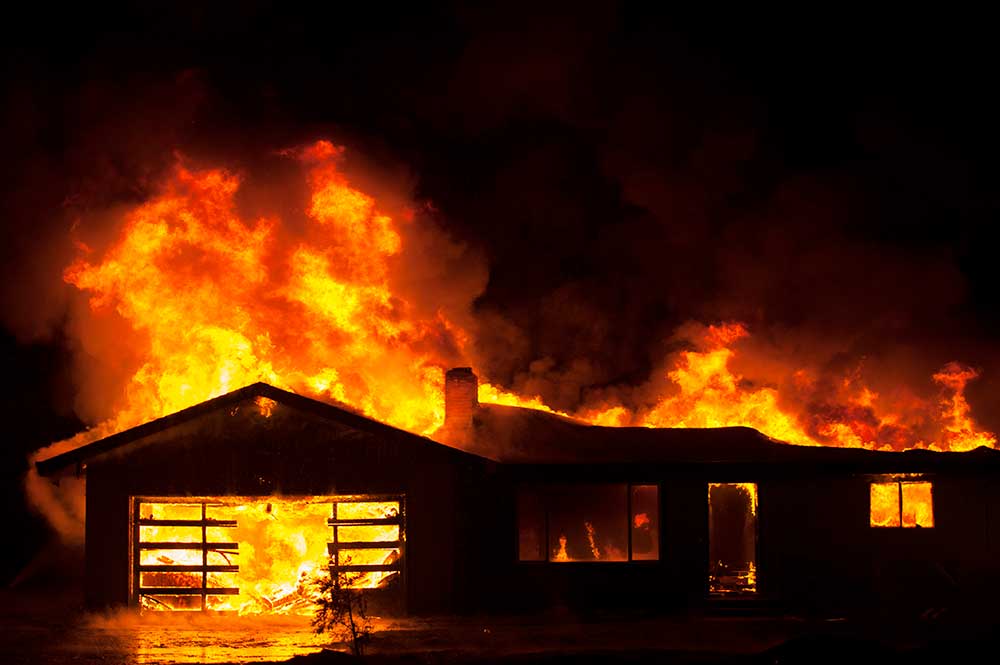 Fortify from the top down
Beginning at your home's roof and working your way to the foundation:
Screen attic vents with 1/8-inch wire mesh to keep out blowing embers. While many of us tend to think of wildfire as a wall of flame, most structure fires begin with embers that float in quietly, sometimes from miles away. The screen stops them from entering your home.

Burn up firewood stacked next to your home and don't replace it. Although it's convenient to have your wood supply handy, it also provides added fuel for a wildfire. Once the pile is used up, keep firewood stacked well away from your home.

Remove boards and debris stashed under decks. Those materials can provide fuel for a fire that's spreading along the ground.

Screen under decks with 1/8-inch mesh to keep out embers. That prevents ignition from floating embers, the same as screening attic vents. As an added bonus, you'll also keep out rodents looking for a warm place to escape the winter chill.

Watch as PEMCO's Derek Wing shares "top down" tips on KATU Portland's AM Northwest.
Invest in fire-smart remodeling
This time of year, many companies run offseason specials on roofing, siding and fencing. If you plan to take advantage of some of those deals, be sure to add "fire resistance" to your must-have list. Among fire-smart choices:
Switch from single- to double-pane windows. Double panes are much more resistant to heat breakage than single panes. That's important, since broken windows allow embers to float in. You'll also save on your seasonal heating and cooling bills.

Choose tempered-glass skylights. They're more fire resistant than the domed plastic kind.

Re-side with fiber cement board. It's an attractive rot-, insect- and fire-resistant alternative to traditional wood siding.

Re-roof with asphalt fiberglass shingles or metal. Both are affordable choices that are much less flammable than the traditional cedar shakes popular in the Northwest. When choosing a product, look for a Class A fire rating.

Break up wood fences with metal gates. Fire can easily run along a wood fence, meaning your fence can give fire a pathway straight to your house. A metal gate or shield can interrupt the flames.
Landscape to "dead end" a fire
As it seeks fuel, a fire literally can burn a path around a home that denies it access to combustible materials:
Create natural firebreaks. That might mean adding dry creek beds made of river stone, water features like ornamental ponds and circular driveways that buffer the house.

Replace beauty bark with pumice or gravel. While beauty bark looks gorgeous, it's very flammable and, like a wooden fence, can lead fire to your home. An added bonus: You don't have to refresh pumice or gravel every spring to keep it looking sharp.

Protect propane tanks. Clear away vegetation from tanks and surround them with gravel.
Another important offseason to-do? Check that your insurance policy has kept up with improvements you've made around your home. Here are some common upgrades that can overstretch your policy. Your local PEMCO agent or a representative at 1-800-GO-PEMCO offers free, no-obligation coverage checkups any time.