Our Northwest
Wildfire experts connect on creating resilient communities
August 6, 2019
by PEMCO Insurance
Wildfires have always been a danger in the Northwest, but they're becoming ever more top-of-mind for Washington residents.
Even those who live on the west side of the state have noticed our recent smoky summers and the ensuing air quality concerns, or been stuck in a traffic jam because fire crews are battling a brush fire that's popped up along a major state highway. And it's near impossible to navigate your news feed this summer without seeing updates on how our changing climate is increasing wildfire danger.
So how can we work together to defend this place we call home?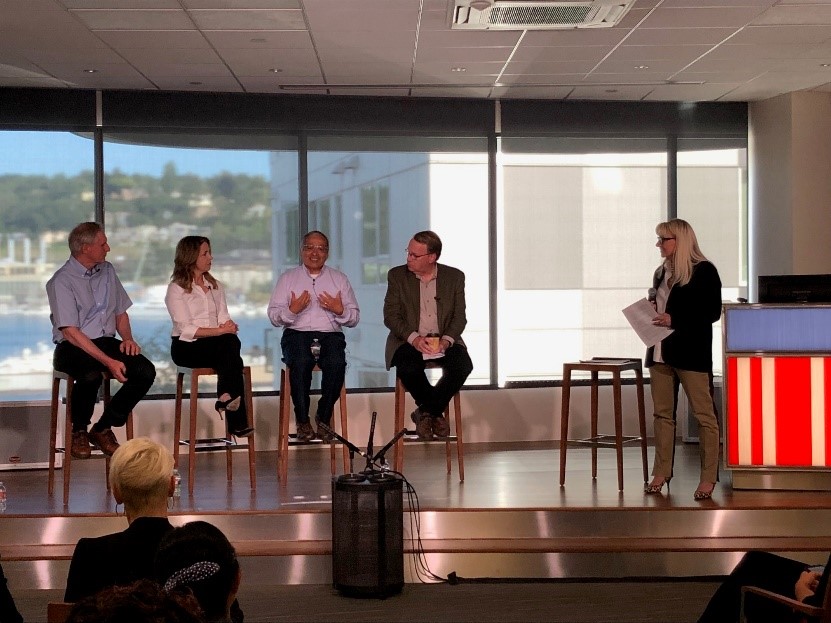 It turns out there are many local experts that have our backs on this front, and we partnered with the UW School of Environmental and Forest Sciences to bring them together to discuss wildfire trends, forest health, and how we can achieve our shared goal of building safer and more resilient communities.
Our all-star lineup of panelists included Nobel Peace Prize co-recipient Dr. Dave Peterson, a UW forest ecology professor and emeritus senior research biologist with the U.S. Forest Service; state Commissioner of Public Lands Hilary Franz; KING-5 TV science and aviation reporter Glenn Farley , and noted biologist Ernesto Alvarado, Ph.D., a research associate professor in the UW School of Environmental and Forest Sciences. Our own Chief People & Brand Officer MJ Vigil moderated the event.
Throughout the event, it was clear that these kinds of cross-sector discussions are increasingly important. While experts may disagree on the best methods to prevent or mitigate wildfires, we all want our communities to be safer and better equipped to weather wildfires or other natural disasters.
The discussion got people in the audience thinking about what actions they themselves could take to become better prepared.
"One point that stood out to me is how disaster preparation of any kind is applicable to wildfire preparation," said Mary M. "Getting to know your neighbors, mobilizing and having discussions in your neighborhoods, having a plan – these all apply to earthquakes, tsunamis and wildfires as well."
Jim L. said the discussion helped him get a better understanding of the issues, and what steps will be needed to help communities handle wildfire seasons that are getting longer and more intense.
"I left thinking about how we could work with fire to create sustainable forests (prescribed burns), rather than rely on fighting fire in a reactionary way," he said. "I also like the idea of neighborhood mapping, and plan to do that in my neighborhood for disaster planning."
More than 50 attendees were in the audience for the event, which local news network TVW covered live. If you couldn't be there, be sure to check out the recording of the University of Washington & PEMCO Wildfire Seminar Series, which is available to watch on demand. It will also run on TVW on Wednesday, 8/7, at 5:30 p.m.