Perspective
Is it safe to wear a wedding band when working around equipment?
March 18, 2019
by PEMCO Insurance
​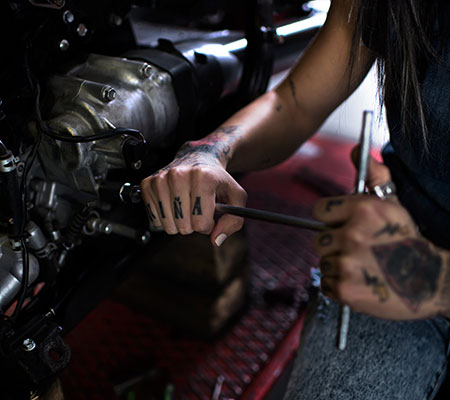 Reader-suggestion from Maureen A.
Ah, June. The wedding month. And for some – especially guys – the first time they've ever worn a ring, be it a humble gold band or something a little flashier to symbolize their commitment.
It also can be a concern, especially for people who work around equipment and risk injury if the ring catches on machinery.
The Occupational Safety and Health Administration (OSHA) maintains guidelines for jewelry in the workplace. It suggests these people remove rings or other jewelry before clocking in:
Machine and equipment operators and auto mechanics. The jewelry could catch on components, entrapping the wearer's finger or hand.
Electricians and others exposed to electrical current. Conductive metals pose an electrocution risk.
Workers exposed to high-intensity light. Metal can transfer heat to skin, causing burns.
Workers exposed to chemicals. Not only can chemicals get trapped under a ring causing burns or irritation, but the ring itself could be marred by chemical exposure.
Health and food workers. Rings can harbor bacteria even after ordinary hand-washing. Unless gloves are used consistently, removing rings before work may be the best option to avoid transferring dangerous bacteria.
Growing awareness of wedding ring dangers has sparked a new trend: Silicone wedding bands. They're nonconductive, pliable and heat-resistant, saving the wearer from potential serious injury. They're also very inexpensive, so if you lose one while out on the jobsite (or the beach, a hiking trail, or the gym), it's not like watching your paycheck disappear down a storm drain. As for the fashion statement they make? You be the judge.

 

IS YOUR WEDDING RING FULLY PROTECTED?

Did you know that virtually every homeowners policy sold in the United States (including PEMCO's) limits theft coverage for jewelry? What's more, unless you've upgraded your policy to "open-peril" coverage, it can't protect you if you simply lose your jewelry.

If your "I do" included a ring worth more than $2,500 (or its price pushes the total value of all the jewelry you own to more than $5,000), you'll want to find out about buying extra coverage. In insurance-ese, it's sometimes called adding a jewelry "rider" or "endorsement." You can get it for $1.15 per $100 in appraised value (that would be $57.50 a year to insure a $5,000 ring). If you do need to make a claim, you won't pay any deductible.

Your local PEMCO agent or a PEMCO representative can help you decide if it's worth it and, if so, tell you how to take the next step by getting an insurance replacement appraisal.

​