Perspective
Create your water-wise Northwest garden
June 24, 2019
by PEMCO Insurance
​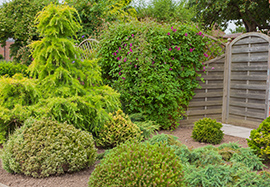 With about half of Washington under drought declarations and abnormally dry conditions across northwestern Oregon, gardeners feel understandably awkward whenever their neighbors catch them waving the water wand. Fortunately, you don't have to trade your lush landscape for an Arizona-style rock garden to be a good steward of precious resources. These tips will help you make the most of every drop, minus the water-wasting guilt:
1) Mulch more

Soil rich in organic matter holds water better. Add compost like grass clippings, leaves and other organic matter to the soil before you plant.

2) Don't water the weeds
Weeds compete with your plants for water. To get an unruly patch under control, set a timer and pluck for 20 minutes every day. Then stop. The short session will save you from feeling overwhelmed (not to mention straining your back) and when you stick to it, you'll soon see results in healthier plants and reduced water consumption.

3) Water only where it's needed
Swap sprinklers (notorious for watering sidewalks and driveways) for drip lines and soaker hoses. They slowly seep water right at the plants' roots and work especially well for straight rows on level ground. Since the holes in the hose are tiny, they sometimes can get clogged with soil, so check periodically for dry patches in the garden.

4) Consider a sunken garden
Make the most of scant summer rainfall and provide a shady berm around plants' roots. In two- or three-foot squares, excavate soil into ridges along planting areas (envision a giant dirt waffle) and scatter seeds in the depressions of the waffle. Those depressions hold water better than a completely flat planting area.    
5) Use a rain barrel
Collect rainwater from your downspouts to irrigate your plants. You can buy a rain barrel at a garden store or build one yourself out of a plastic garbage can and PVC pipe. Put it on a stable, elevated surface so gravity will give you some water pressure. (Be sure to check with your homeowners association for possible restrictions.)

6) Sprinkle at night
If you have an automatic sprinkler system, set it to go off at night, when evaporation is low. Also, set circuits to run multiple cycles in short bursts so the water can soak in rather than running off.

Do you have some winning water-wise tips of your own? Please share them below in Comments.