Perspective
Dealing with extreme heat | PEMCO
July 7, 2023
by PEMCO Insurance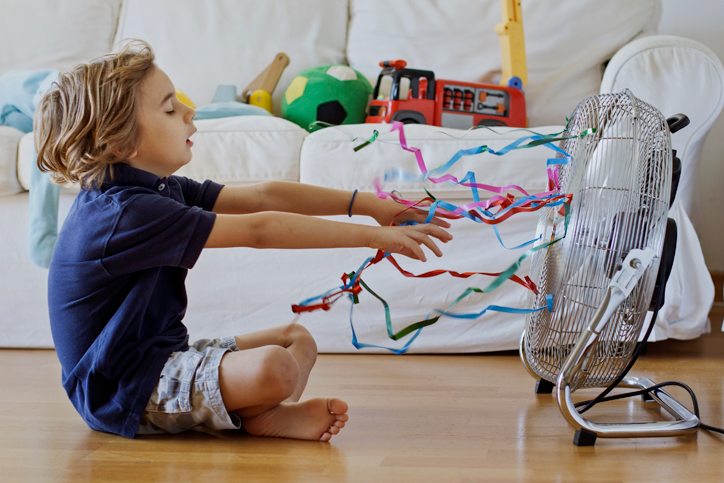 Lately, Pacific Northwesterners are no strangers to high summertime temps—and many of us (maybe even most of us!) don't have AC in our homes. It feels like our summers get a little warmer each year, so it's important to keep safety top of mind—for your family and your pets—when the highs reach sizzling heights. These expert tips will help you keep you cool and comfortable during the next heatwave.
How do I stay safe in high temperatures?
It's good to know some general best practices for coping with excessive heat.
Hydrate, hydrate, hydrate! According to the CDC, it's essential to drink plenty of fluids—mainly water—even if you don't feel thirsty. Tasty treats like watermelon, iced tea, or fruity lemonade can help switch things up for kids and adults alike.
Limit your outdoor activity during peak hours. Avoid going outside when the sun is brightest and hottest, which is typically between 12 p.m. to 3 p.m.

Know the symptoms of heat-related illness. The CDC has a handy chart that shows you what to look for and what to do in the event of heat stroke, heat exhaustion, heat cramps, sunburn, and heat rash. Get to know the signs and the steps you can take, so you can make quick decisions in the moment.

Check in on friends and neighbors. Heatwaves disproportionately affect people aged 65 and older, children younger than two, and people with chronic illnesses. Be sure to check in with loved ones throughout the day.
How can I cool down my house when I don't have AC?
You don't have to have an air conditioner to beat the heat! Yes, really! Here are some pointers for cooling down your place.
Shut your windows and blinds during the hottest hours. Only open them back up once the temperature outside drops below the temperature indoors. Make sure drafty doors and windows are properly insulated to help keep the hot temps outside.

Once temps drop, put box fans near open windows. When it's finally cool enough to open your windows, place box fans nearby so they can draw in and circulate the cooler outdoor air. It's a good idea to have at least two box fans on hand.

Turn on your ceiling fans. According to the NRDC, ceiling fans can help a room feel up to 10 degrees cooler while only using about 10% of the energy used by a central air conditioner. Don't be afraid to use 'em if you have 'em!

Avoid using the oven or stove. Your oven might as well be a heater. Try making a fresh, summery salad for dinner instead—the veggies will be full of water to help keep you hydrated! Plus, this gives you the perfect excuse to stop by the farmer's market.
How can I keep my pet safe and cool during a heatwave?
Dogs can only sweat through their footpads and cool themselves by panting, which makes it even harder for them to cope with high temperatures, according to PETA. And if your cat's panting, they're likely overheating and need help cooling down pronto. Check out these tips for keeping your four-legged friend comfortable when the temps outside are scorching.
Make sure they're drinking plenty of water. Regularly top off your pet's bowl with fresh water and encourage them to drink more than they normally would.

Place a fan near their favorite hangout spot. Does your pup have a favorite couch cushion? Aim a fan at your pet's most frequented hangout spot—but make sure the air flow isn't so intense that they'll want to rest elsewhere.

Take them for a walk during cooler hours. Hot sidewalks can burn your fur baby's footpads. Plus, pets can get sunburned just like humans can. Opt for an early-morning walk or an evening stroll when temperatures are lower and the sun isn't as intense.
Look before you lock your car. Heat stroke can happen in as little as 15 minutes—even if the windows are cracked. It's never safe to leave your pet in the car during a heatwave, so bring them in with you or avoid bringing them at all.

Keep your furry friend inside. Even if you consider your pet an "outside" pet, it's smart to keep them indoors during particularly high temps. They may be a little antsy, but at least they're safe.

We hope you continue to enjoy the beauty of summertime in the #PNW, even when it gets a little toasty.


More articles like this from PEMCO:
Keep your home and car cool 10 ways
10 tips to safely beat the heat, even without AC