Articles
Time change increases danger for pedestrians | PEMCO
November 3, 2023
by PEMCO Insurance
​The switch to standard time is happening on November 5 this year. Drivers and pedestrians need to prepare for what's historically the most dangerous week of the year to travel on foot.
In a now-classic study, Carnegie Mellon University researchers found that pedestrians walking during the evening rush hour are three times more likely to be struck during the week following the time change than they were the previous week.
As drivers and pedestrians adjust to darker evenings, accidents begin to drop by December. Still, each year, the time change costs approximately 200 pedestrians their lives, according to the Insurance Institute for Highway Safety.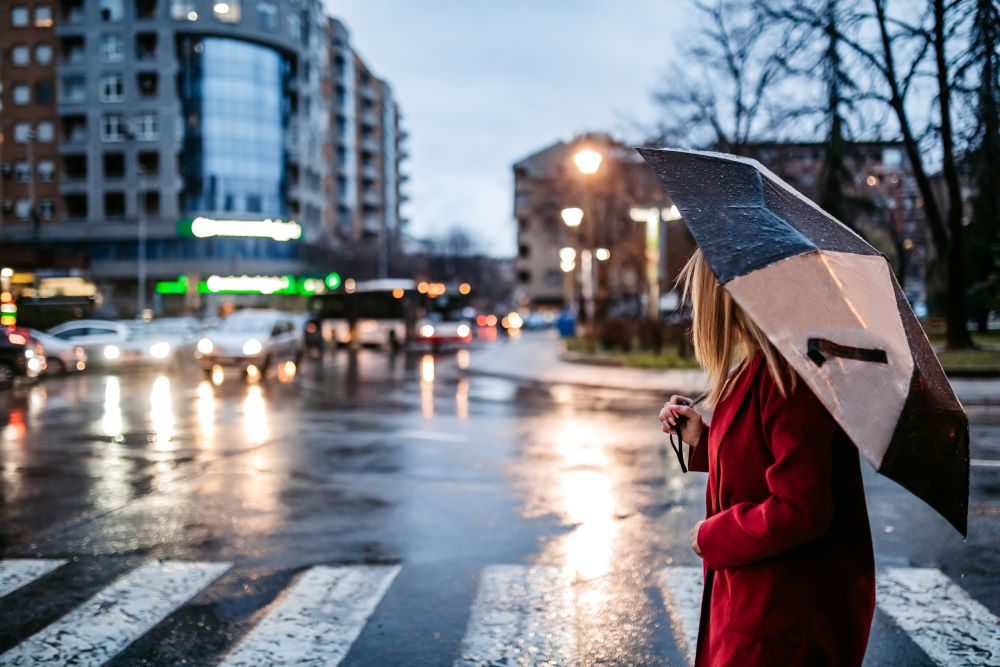 Pacific Northwesterners can expect their first standard time sunset to come a full hour earlier on November 5--at around 4:42 p.m.!
How to stay safer during the time-change adjustment
The coming weeks call for added vigilance on the part of both pedestrians and drivers. Even though you're getting an "extra" hour of sleep with the change to standard time, any disruption in sleep patterns can impact attentiveness. Consider adjusting your bed time by 10 minutes a day in the week leading up to the time change.
Here are some other good places to start:
For pedestrians
Leave earlier for discretionary walks. Whether you're walking for exercise or taking the dog out, shift your routine so you're out during daylight hours.
Beware of cars making right turns. Drivers looking left for traffic may not notice that you've entered the crosswalk on their right.
Make sure traffic has stopped before you enter a crosswalk, even though the signal has changed.
Turn down earbuds so you can clearly hear traffic approaching.
Don't use your phone to text, read or talk.
Walk with your head up and avoid temptation to "beat the light" by stepping into the intersection with seconds to spare.
Dress in light colors, put reflective tape on your jacket and consider wearing a headlamp or carrying a flashlight.
Opt for routes with sidewalks. If none are available, walk facing traffic.
Know the pedestrian "rules of the road."
For drivers
Keep headlights clean and replace yellowed or oxidized headlights. Drivers who fail to see pedestrians are a major cause of pedestrian accidents.
Don't rely on your car's emergency braking and pedestrian-detection features. Tests of their effectiveness have been mixed, as this unsettling crash dummy video from AAA demonstrates. You can read AAA's full report here.
Resist the urge to "do a good deed" by stopping and waving on pedestrians mid-block or for whom the crossing signal hasn't yet changed. Drivers behind you won't be expecting you to stop, and oncoming drivers won't anticipate a pedestrian suddenly emerging on their side of the road.
Stop well in front of crosswalks. You'll help other drivers realize a pedestrian is crossing.
Don't overtake a stopped vehicle. Chances are, it's stopped for a pedestrian.
Slow down in dark or wet conditions, particularly around schools.
Know the law when to stop (and remain stopped) for pedestrians in Washington and Oregon.
Pedestrian safety is not only important when adjusting to the time-change, but also year round. We're proud to support community efforts like the
UW Harborview Injury Prevention and Research Center's INSIGHT Program
by providing scholarships for low-income students to participate. For the past two years, their summer sessions for students have specifically focused on pedestrian safety with the goal of informing efforts to prevent pedestrian fatalities.