Press Releases
Residents say they're not bothered by the rain, but admit suffering from SAD 
February 28, 2022
by PEMCO Insurance
A new poll from PEMCO Insurance reveals that a majority of Pacific Northwest residents say that despite the area's soggy reputation for rainy, grey skies, the weather here largely matches their climate preferences. However, though many say they aren't bothered by wet, dreary weather, more than half of those polled admit that they suffer from Seasonal Affective Disorder (SAD) during the winter months.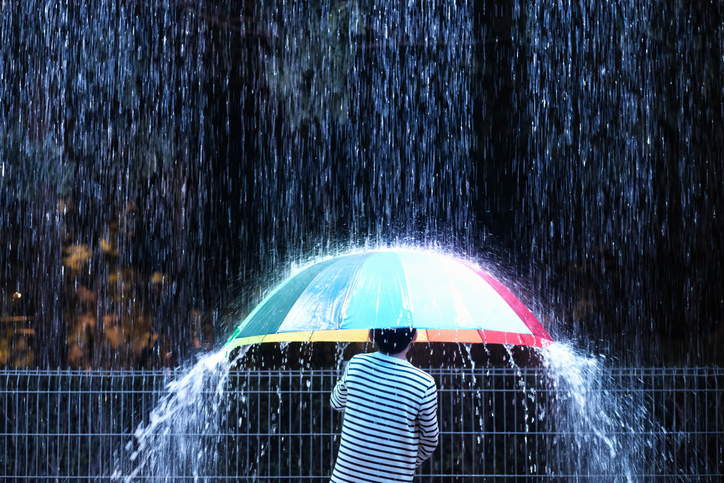 According to the PEMCO poll, 81% of Seattle and Portland residents report that the year-round weather in their respective cities at least somewhat matches their climate preferences. In fact, of them, 55% say the weather mostly or exactly matches their desired weather.
The poll also confirms that not only do residents prefer the Northwest's climate, nearly three-quarters say that they aren't deterred by rain, specifically. The PEMCO poll found that 72% of residents in Seattle and Portland say they aren't too bothered or not at all bothered by the area's signature rainfall.
But despite residents' so-called affinity for wet weather, a significant number of respondents report suffering from SAD – a seasonal type of depression that's related to the change of seasons. Nearly two-thirds (59%) say they experience its effects during the winter months.
While residents of all ages and genders say they live with SAD, the poll finds that younger residents appear to be more prone to this seasonal depression. In the Seattle metro area, about two-thirds of those under 55 (65%) say they suffer from SAD, while less than half of their older counterparts over 55 (45%) say they experience SAD. In Portland, the same findings ring true – 62% of residents under age 55 say they suffer from SAD while only 47% of their older counterparts say the same.
"There's no denying that this time of year usually means wet, grey weather here in the Pacific Northwest. Despite this February being drier than usual, many of us are still ready to see the sun," said PEMCO spokesperson Derek Wing. "From my personal experience, many coworkers, friends and neighbors are currently escaping the gloomy weather and flocking to warmer, sunnier climates for a mid-winter break. But according to our poll, most residents claim they don't mind the Northwest's winter weather – they actually like it."
Given residents' preferences for overcast skies, the poll also asked residents to put their weather knowledge to the test. The poll found that residents largely understand the Pacific Northwest's distinct weather patterns. When respondents were asked about how many days of rain their city experiences annually, they hit the nail right on the head – two-thirds of Seattleites and Portlanders (62%) said their city experiences between 100 and 200 days of rain annually. According to The Weather Channel, Seattle experiences an average of 152 rainy days per year and according to the National Weather Service, Portland experiences an average of 151 days with some rain each year.
However, when it comes to cloudy days, residents underestimate how many days their city flaunts grey skies. In both cities, the most cited number of cloudy days was between 150 and 199 days annually, meaning the day progressed with little to no sunshine. According to a report from move.org, Seattle sports an average of 201 cloudy days per year and Portland experiences 222 days with little to zero sunshine annually.
"It's interesting to see that Northwest residents underestimate the number of overcast days we experience every year, but also say the weather here matches their climate preferences. Perhaps that's why we notice a discrepancy between climate preferences and those that experience seasonal depression each year," Wing shared.
Regardless of whether Northwest residents shared their love or disdain for the rain, one stereotypical Northwest finding remains true – most Northwesterners won't be caught with an umbrella. According to the poll, only 9% say they always use an umbrella to keep themselves dry when it's raining cats and dogs.
For a complete summary of PEMCO's proprietary poll results visit www.pemco.com/blog/nw-polls, where you'll find responses collected by FBK Research of Seattle in August 2021.
About the PEMCO Insurance Northwest Poll
PEMCO Mutual Insurance commissioned this independent survey, conducted by FBK Research of Seattle, that asked Washington and Oregon residents questions about driving habits and attitudes toward current Northwest issues. The sample size, 420 respondents in the Seattle Metro (King, Snohomish, Pierce Counties) region and 418 respondents in the Portland Metro (Multnomah, Marion, Clackamas, Washington Counties) region yields an accuracy of +/- 5.0% respectively at the 95% confidence level. In other words, if this study were conducted 100 times, in 95 instances the data will not vary by more than the associated error range.
About PEMCO Mutual Insurance
PEMCO Mutual Insurance is the Defender of Your Northwest, providing auto, home, renters and boat coverage. We are consistently recognized for outstanding service, employee expertise and social impact. Our Mutual Good programs raise the achievement levels for youth in education; build stronger, greener environments; and increase safety at home, on the road and at play. Our mission: Free our communities to worry less and live more.