Perspective
PEMCO volunteers participate in National Volunteer Week
May 8, 2023
by PEMCO Insurance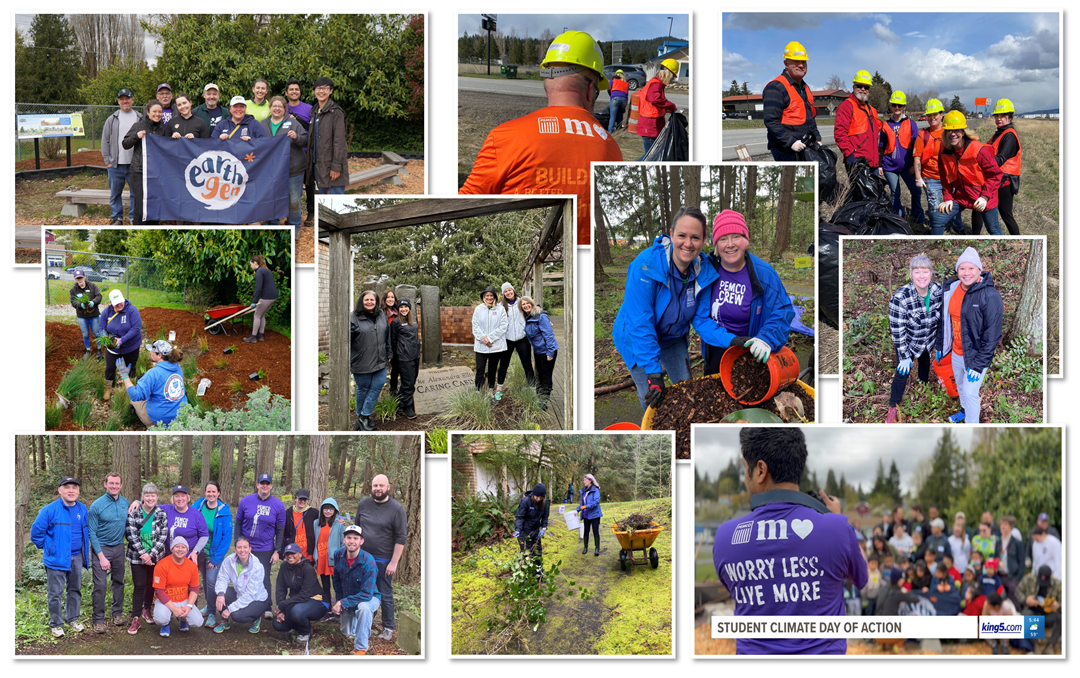 31 volunteers. 372 total volunteer hours.
In celebration of National Volunteer Week and Earth Day, PEMCO employees came together across Washington and Oregon to volunteer alongside organizations making meaningful impacts in our communities.
Braving the wind and weeds, we loved every minute spent together connecting over what makes the places we call home so special. Over the course of four separate volunteer events, our efforts were demonstrative of our commitment to the protecting the environment as well as understanding and mitigating our impacts.
While each effort was a little different based on the needs of the organization we partnered with, outcomes were similar: we helped impact the environment for the better, learned more about an important cause in our community, and built stronger connections with each other through service.

Here's how PEMCO participated in those efforts:
The JoyRX Alexandra Ellis Caring Cabin
Cloverdale, OR
PEMCO employees partnered with community agents and JoyRX leaders to help clear the 27-acre property of storm debris, filling 10 wheelbarrows! The JoyRX Caring Cabin honoring Alexandra Ellis is a beautiful oasis nestled into the Oregon Coast (with its own private lake!) that was created to provide children and their families a respite during or after cancer treatment. It offers the opportunity to rest and create new memories in a non-hospital setting after enduring the hardship that comes with treatment for pediatric cancer and other diseases.
Barbara Peschiera, Director of Corporate Engagement for JoyRX shared, "Thank you for weathering the coastal weather and for sprucing up our Cabin property so our families experience the respite the property offers." 
Adopted Highway
Spokane, WA
At this event, volunteers worked together to fill 15 garbage bags of trash and debris along our adopted stretch of highway in Spokane through the Adopt-a-Highway program. Materials collected included Styrofoam, plastic, metal, and even an uncashed check from 1998! By removing litter and hazards, this stretch of highway is better prepared for the unpredictability of wildfire season. 
Green City Partnerships
North City Park, Shoreline, WA
At this event north of Seattle, PEMCO volunteers and community partners worked together to remove invasive trees and plants from North City Park, a local urban forest in Shoreline. In support of Green City Partnerships, the team also spread about 10 yards of bark (wow!). This work contributed to the health of the forest for local access so other community members can enjoy it, and contributed to a healthier, greener environment for all.
EarthGen's Rain Garden Program
Burien, WA
At this event, volunteers joined forces with EarthGen's Rain Garden Program to help maintain gardens at Hilltop Elementary in Burien. The school's rain gardens capture gray water runoff from roads—the largest source of polluted water due to car tire dust. The program itself supports STEM education as students design, engineer, and build each project. Volunteers worked with students to pull weeds and lay two full loads of mulch to maintain the garden and ensure it's ready to capture the highly polluted waters from our roads and keep them out of our fresh waterways. 
One Hilltop Elementary student who joined the event of weeding and planting in the rain garden remarked, "I always thought being in nature was boring. Boy, was I wrong – this is fun!" 
Check out our PEMCO people in action with students, other community groups, and the EarthGen team in this feature by King 5 News: Burien students participate in a Climate Day of Action | king5.com. 
As an organization, we're excited, honored, and proud to connect and collaborate through volunteerism. Our shared commitment to our region, our people, and our planet is what brings us together as employees, partners, and neighbors. Learn more about our commitment Mutual Good and what it means to us here.