Perspective
Why a clean garage is more than just cosmetic
August 28, 2019
by PEMCO Insurance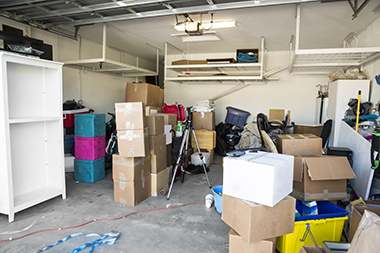 If your garage is cluttered, you're not alone! One-third of us hide our mess by keeping the door closed as much as possible. And about one-fourth of people in a recent survey admitted their garages are so jam-packed, they can't even park inside.
That's more than just inconvenient. It puts their cars at risk. Cars parked outside are more vulnerable to break-ins, vandalism and theft. They're also more likely to rust, leak and get sun damage. And during the winter, of course, you have those pesky windows to scrape!
Even if you don't own a car, a garage stuffed to the rafters can hide problems like small leaks or become a home to insects or rodents.
With the kids back in their school routine, now's a great time to reclaim your garage. Break it down into manageable steps to get started:
Plan. Mentally stake out zones where you want to store things like camping gear, ski equipment, bikes, holiday decorations and garden tools. Think about ways to get things off the floor. That likely means a trip to the hardware store for shelving, clear plastic bins and hooks.
Stage and sort. Gather things into the zones you planned. Plus, have a pile for recycling, trash and selling. It's probably time to let something go when:
You haven't used it in 12 months
You might need it "someday," but you don't know when
It's broken, but you can't fix it now
It's a duplicate (Do you really need three lawn rakes?)
You don't know what it is.
If there's room, clear out one half of the garage at a time so you can thoroughly clean the floor before moving things back into place. At this stage, your garage will likely look messier than it did before you started!
Organize. Safety first. As you're putting things back, check that big things like ladders couldn't scratch or crash down on your car once it's parked inside. Make sure every box is labeled and up on a shelf. The less often something is used, the higher it should go.
Next, fine tune little things like your workbench, sorting nails and screws into bins and hanging hand tools on hooks.
Then … drum roll … it's time for the worry less, live more finale: Pull your car into the garage!