Perspective
Road Rules 101: What to do if you're caught in a snowstorm
December 1, 2019
by PEMCO Insurance
​

We're great at a lot of things in the Northwest. Dealing with snowy, icy streets? Usually not one of them.
Here's how to avoid getting stuck in the snow or, if it's too late, what you should know (and have with you) if you're forced to walk away from your car or spend hours waiting by the side of the road.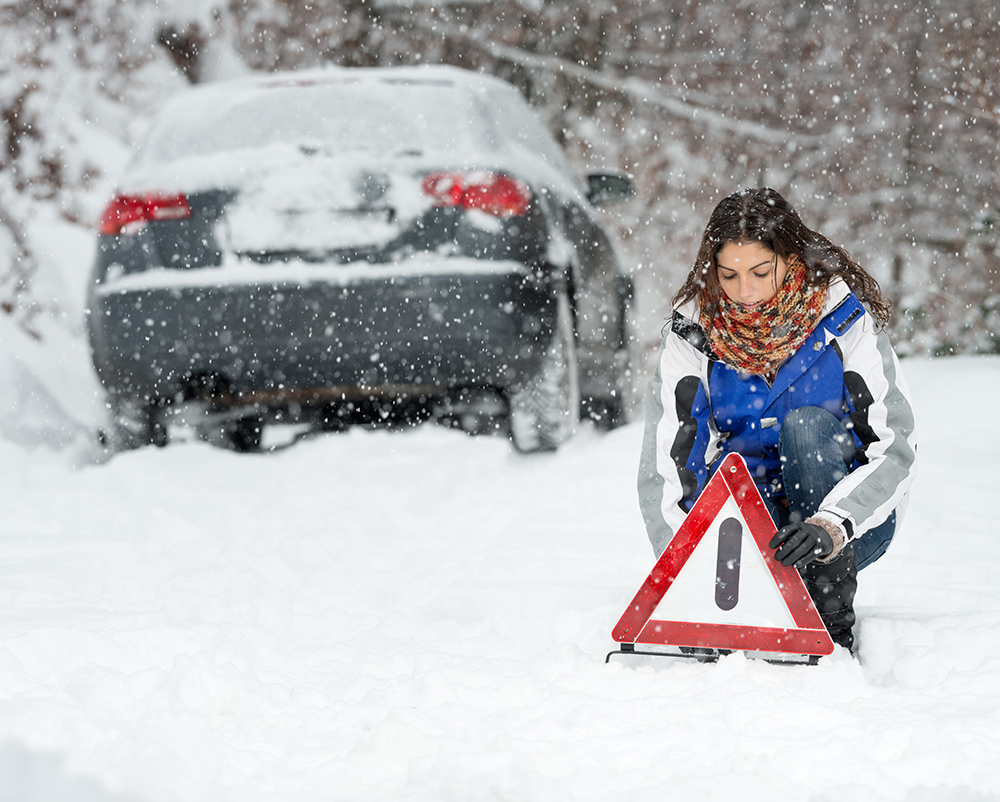 Before the snow flies:
Make a snow plan with your employer. If working from home is an option for you, set up plans with your supervisor so you're not overcome by snow guilt (like 60% of people in a PEMCO Poll) and feel pressured to commute in dicey conditions.

Map out snow routes. If you must drive, make sure you know the flattest, safest route possible to get to and from work. And make sure your tires are up to the job. 

Don't let your tank drop below half full until spring. If a snowy commute snarls traffic for hours, you don't want to run out of gas on the freeway. Or, if you get stuck, you'll want gas in your tank so you can run your engine for heat.

Pack your "snow box" and put it in the trunk. It should include a sleeping bag or blanket, snow boots, warm gloves (essential if you'll be putting on chains), water, granola bars and a car phone charger).

Carry chains and non-clumping cat litter. Both could get you emergency traction when you need it. And worst case? Sacrifice your floor mats as a source of traction to help get unstuck.

If you can no longer maneuver the car:
Get as far off the traveled roadway as you safely can. You reduce the chances another driver will hit your car or that it will block emergency vehicles, resulting in an abandoned-car towing fee if road crews must have it moved.

Turn on your flashers and leave them on. A dead battery is better than causing an accident for which you could be held responsible. Set out warning reflectors if you can safely do so.
Decide whether to remain with the car and call for help or to strike out on your own. Some factors to consider are your health, clothing for the weather, distance to the nearest help and likelihood of your vehicle being hit while you're inside it.
Assuming you're safely off the roadway, generally it's best to stay with your car if you think there's a good chance that a tow truck or other help will come soon.

If you do decide it's best to leave:
Put a note in the window with your contact information. That improves your chance of hearing from someone who hits your vehicle or from the authorities.
Take your most valuable items with you.
Remove personal information that could allow a thief to locate your home, steal your identity or otherwise defraud you.
Set the emergency brake and lock the doors. Professional towing companies know how to safely tow your vehicle.



For tips to help make sure your car is ready for winter's worst, check out our "Fall to-do list for your car."
NOTE: While we're experts in loss prevention and home/auto safety, we don't consider ourselves experts in traffic laws or their enforcement. Information shared here is for educational purposes only and is not legal advice. If you have legal concerns, we urge you to contact a law enforcement source or attorney in your community.