Articles
Apartment fix-ups that won't fluster your landlord
March 22, 2021
by PEMCO Insurance
The first thing anyone wants to do when moving into a new home is to make it uniquely theirs. When you own your space, budget and imagination are your only limits. But not so when you're renting. That chic black accent wall, bird-themed wallpaper or barn door you love might get a less-than-enthusiastic response from your landlord.

Landlords intentionally keep their properties neutral and uniform to appeal to a large pool of renters. When you make semi-permanent, highly personal changes, you may forfeit your damage deposit at the end of your lease if your landlord needs to spend time and money returning your mango-coconut-cherry-chocolate-chip delight of an apartment back to its plain vanilla self.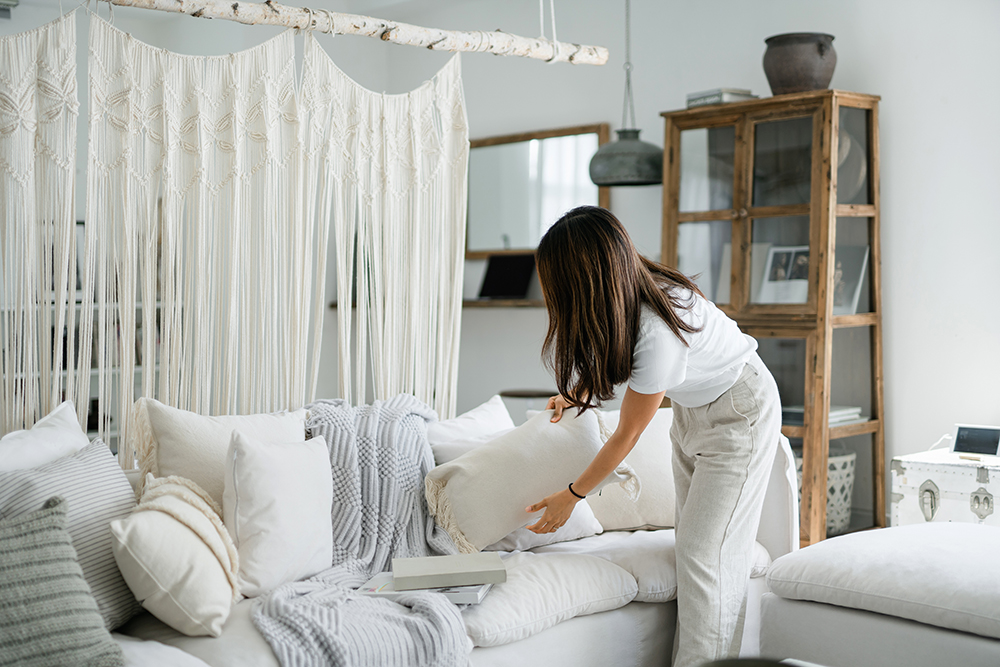 So what can you do to personalize your space without sparking drama when it's time to move? Here are 10 safe bets:
1.     Area rugs. Cover worn or unappealing floors with area rugs. They're especially good in tight studio spaces because they help define "rooms" without walls.

2.     Window treatments. Dress up the bland window blinds that came with your place by adding a curtain rod and drapes. Have a windowless bedroom? You can create the soft, soothing illusion of a window by hanging drapes, too (just keep them closed!). And don't forget a stylish shower curtain to spruce up the bathroom.

3.     Bookcases. Not only can they fill a blank wall, bookcases provide much-needed storage. Electric fireplaces can make a great focal point, too, where none exists.

4.     Lamps. Overhead lighting can be harsh. Soften your room's look with table and floor lamps.

5.     Cabinet hardware. New hardware can freshen the look of old cabinets. Remove and save existing drawer pulls and replace them with stylish new ones. The only trick to remember? Make sure the screw spacing for your new hardware matches the existing holes. When you're ready to move, you can put back the old hardware.

6.     Mirrors. Make tight spaces look bigger with wall mirrors. They'll also brighten the room if they're positioned across from windows and reflect natural light.

7.     Room dividers. Carve out a work-from-home space with folding screens or, if you can anchor it safely without damaging walls or floors, a tall open shelving unit can do double-duty as divider and display shelving.

8.     Plants. Houseplants pull the colors of nature into your rooms. No green thumb? Try cactuses and succulents.

9.     Removable peel-and-stick tiles. Emphasis on "removable." You can create a designer-look backsplash in your kitchen or bathroom with faux tile. Just make sure it's labeled as apartment-friendly.

10. Pillows and throw blankets. Give a blah room a pop of color with bright pillows and throws. They also help carry a color theme from room-to-room, a designer trick to help small spaces flow together and seem larger.

And the one accessory no apartment can do without? Renter insurance. Even if your apartment complex doesn't require it, you'll want to save a *small* place in your budget to protect your property and cover liability concerns if someone is injured in your home. PEMCO offers discounts when you bundle renter and auto insurance. It's like getting your renter insurance at one-third off the regular price! Apply on the GO PEMCO app, online at pemco.com or call your local PEMCO agent or 1-800-GO-PEMCO.